Hackers May Have Obtained 200,000 Intimate Snapchat Photos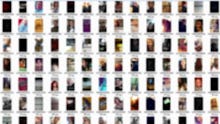 The news: Hackers have illegally obtained a massive trove of 100,000 to 200,000 users' Snapchats and have begun distributing them on 4chan, widely acknowledged as one of the most controversial places on the Internet. Links to the images began appearing there Thursday night, according to reports from a man claiming to be a social media consultant named Kenny Withers and subsequently confirmed by the messaging company. 
Since Snapchat is supposed to permanently erase images within seconds of them being traded, there's no doubt that the emergence of them will be a nasty surprise to many of app's users. Snapchat, with its "disappearing" messages, has a reputation as the pre-eminent medium for men and women to exchange intimate (read: nude) photos. Now, thousands of users may have had their privacy violated.
How'd it happen? Some of the images may have been circulating for years, while others appear to be new. The index of photos uploaded to Viralpop.com, which Business Insider called "a fake competition website that installed malicious software on the computers of users trying to take part" and linked to on 4chan, was around 13 GB:
Here's how 4chan's users celebrated their gross success in committing what Jennifer Lawrence recently referred to as a "sex crime:"
According to VentureBeat, the security hole likely emerged thanks to lax security measures from a third-party app known as either SnapSave, which keeps the supposedly self-destructing images around forever, or Snapchat's defunct Web client SnapSaved.
Here's the catch: Many suspect that it could be a prank designed to yank the Internet's collective chain. Commenters on Ycombinator were quick to note that "Kenny Withers" may not be real — his website doesn't even have a functional homepage. But he does have a sparse Twitter account going back at least a year.
Confusing things further, Snapchat seemingly confirmed that something is amiss but was adamant that it was not to blame. Instead, Snapchat blamed its own users who broke their safety guidelines and used insecure third-party apps:
We can confirm that Snapchat's servers were never breached and were not the source of these leaks. Snapchatters were victimized by their use of third-party apps to send and receive Snaps, a practice that we expressly prohibit in our Terms of Use precisely because they compromise our users' security. We vigilantly monitor the App Store and Google Play for illegal third-party apps and have succeeded in getting many of these removed.
Even if this is a hoax, spreading the index of presumably stolen images is still despicable and questionably legal. In fact, Cook notes that the image archives appear to contain child pornography, since half of Snapchat's users are teenagers. If it's a prank, it's a vile one.
Why it matters: Whether or not it's a hoax, 4chan's users are goading the Internet using some foul tactics. It's a form of trolling with real victims — the men and women who undoubtedly did not consent to have their intimate photos redistributed online. 
It's also a pretty terrible PR disaster for Snapchat, both because it shows there are risks to using the service and because they blamed the victims rather than sympathizing with them. "Snapchatters were victimized by their use of third-party apps" is the equivalent of saying "you shouldn't have used this tool in the first place." While this may be somewhat true, what's really in question is whether Snapchat can actually protect the privacy of users. Without that trust, Snapchat's reputation may end up like its message: disappearing fast.