GOP Candidate Blames 'Rise of Single Women' for His Failing Campaign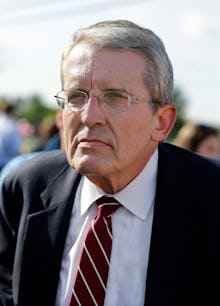 Republican Senate candidate Jeff Bell of New Jersey thinks his election prospects would be looking better right now if more women were married.
Alas, Bell contends that single women have no choice but to be Democrats, since they "need benefits to survive, and so that kind of weds them to the Democratic Party," he told the Asbury Park Press. 
What Bell fails to consider in this assumption are women's existing frustrations with the Republican Party, which women have described as "intolerant, lacking in compassion and stuck in the past," according to a recent internal GOP report on how women view the party.
The party's contradictory messages on whether they support equal pay for women and notoriously conservative social views on issues such as birth control are also part of the explanation, which Bell egregiously simplifies.
But while Bell's reasoning may be skewed, his assessment is largely correct. Since July, Democrats have doubled their lead among single women, the Washington Post reported this week. A poll taken for Women's Voices Women Vote found that "among unmarried women, Democrats now lead Republicans by 22 points, 58-36," according to the Washington Post.
Comments like Bell's make the reason for this all the more clear. The notion that women need to "depend" on anyone — a husband or the government — highlights many Republicans' outdated perceptions of the female population that many women have bemoaned.
A recent College Republican National Committee ad series further highlighted this Republican misunderstanding. The ads, modeled after TLC show Say Yes to the Dress, likens candidates to wedding dresses, calling Republicans the "'perfect'" dress and Democrats as "'expensive'" and "'outdated'" gowns.
In a generation where women are concerned about equality and independence, it's not surprising antiquated emphases on marriage, dependency and finding the perfect dress are falling flat.                        
So, Bell: it's unlikely that blaming women for your low polling numbers will go over well, either. Contrary to your belief, women do have a choice, and it appears they've made it.