Two Cash-Strapped Soccer Teams With World Cup Hopes Just Restored Your Faith in Sports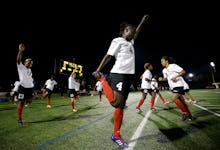 Trinidad and Tobago's women's soccer team may or may not make it to the World Cup. But at least they've got a chance to play.
The team is in the U.S. for the CONCACAF championship, part of the qualifying process for next year's World Cup in Canada. But when it became clear that they didn't have enough money to go through with the tournament, head coach Randy Waldrum put out a call on Twitter, desperate for help.
That help came from a place you might not expect: a rival team. Haiti's team, which had to have its own donation drive, decided to give all its cash to Trinidad and Tobago. Inspired by their generosity, the Clinton Foundation stepped in to offer financial assistance for the newly cash-strapped Haitian team.
How it happened: Waldrum, who coaches unpaid, realized that Trinidad and Tobago's players had been sent to the U.S. with only $500 total. That's nowhere near enough to get housing and food, let alone play soccer at an internationally competitive level.
The Haitian team took notice. They had raised $1,316 to make their trip to the U.S., but decided to give it all to Trinidad and Tobago. "My players saw on social media the difficulties faced by T&T players and approached me about what can we do to help. I was stunned," said Haiti coach Shek Borkowski in a Facebook post announcing the decision. "They were very animated about helping, so I will do as they asked."
Now, Trinidad and Tobago have the cash they need to keep playing and Haiti has the support of the Clinton Foundation. Borkowski told ESPN that the team likely would have had to disband if it didn't qualify for the World Cup without the foundation's help.
Will they qualify? There are eight teams in the CONCACAF championship, seven of which are playing for a chance to move on. (Martinique, the eighth team, is not a FIFA member and thus can't compete in the World Cup.)
The top three teams in the tournament will book their tickets, while the fourth-place team will play Ecuador for a chance. Neither Trinidad and Tobago nor Haiti have made the World Cup before, but both teams have a pretty good shot here — they're ranked third and fourth, respectively, out of the competing teams.
Team USA is ranked first in the world by FIFA and is pretty much a lock to get through. So if you're an American following the tournament, this may give you a few more teams to pull for.