Wendy Davis Just Released an Ad That She Might Regret for a Long Time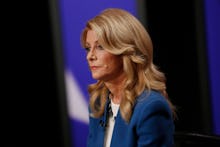 Abortion rights hero Wendy Davis, running for governor of Texas against attorney general Greg Abbott, released a new ad Friday attacking Abbott as a traitor to victims of corporate or medical negligence. 
Abbott was paralyzed below the waist after an accident in 1984. He's been in a wheelchair ever since.
The video begins with the shadowy image of a wheelchair as a narrator's voice cuts in, saying, "A tree fell on Greg Abbott. He sued and got millions." The spot goes on to list cases in which he's sided with big companies or hospitals over people bringing lawsuits of their own:
As the Dallas Morning News reports, "Abbott was 27 at the time of the incident when he went for an afternoon jog on a windy day through River Oaks in Houston. A limb snapped off a large oak tree as he was passing under it, crushing his spine and damaging his kidneys."
Abbott sued the homeowner and eventually agreed to a settlement that has paid him $6 million over the past three decades, and could ultimately be worth $9 million.
Texas Republicans have come out in force to condemn the ad (which many Democrats are cringing at, though mostly in private).
Here's a quick glance:
Davis' message — that Abbott has denied others the opportunity he was afforded in the aftermath of a life-altering accident — might be valid, but the packaging? Not great. 
Davis trails Abbott by double digits in most polls.