Zelda Williams Paid a Moving Tribute to Her Father Robin on World Mental Health Day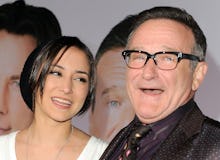 Friday was World Mental Health Day, instituted by the U.N.'s World Health Organization to raise awareness of mental health issues and support those who are struggling with them.
For Zelda Williams, it served as a day to remember her father, actor Robin Williams, who took his own life in August after a fight with depression. To both spread awareness for the day and honor her late father, Zelda took to Twitter with some inspiring words about her father and mental health issues in general.
Take a look:
Though it was just a simple series of tweets, Williams got the conversation going. As she pointed out in her tweets, mental illness is no different than physical illness in many ways, and ignoring the problems and hoping they will go away on their own is not the solution. Talking about it and getting help is. 
Other voices: Williams wasn't the only person affected who decided to speak out. Former heavyweight boxing champion Frank Bruno spoke in the U.K. about his bipolar depression and how policymakers can address mental health issues.
"Remind the decision-makers and purse-holders that if it was your loved one who had mental health issues, you would do everything in your power and more to help them," Bruno told the Independent. "Actually give mental health the financial backing and priority importance from all political parties, without just getting lost or absorbed under the umbrella and big banner of 'health.'"
It's a helpful reminder that while it's up to all of us to support those struggling with mental health issues and remove the stigma from seeking help, there are plenty of ways that extra research and funding would make a huge difference in the lives of many.
Need help? In the U.S., call 1-800-273-8255 for the National Suicide Prevention Lifeline.
Correction: Oct. 13, 2014
h/t E! Online