AMC's Newest Programming Decision Is Good News for TV Lovers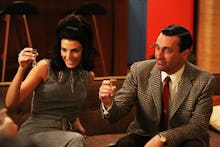 The news: AMC is saying goodbye to reality TV. All of it.
Deadline Hollywood reports that the network has canceled the majority of its unscripted programming effective immediately, with just The Walking Dead discussion panel Talking Dead and Kevin Smith's Comic Book Men surviving the cut. 
Every other unscripted program on AMC — including arm-wrestling show Game of Arms, private-security program Small Town Security and the self-explanatory Venice Beach show Freakshow — have been canceled. The change applies to all programming in development as well, meaning that Chris Hardwick's Celebrity Bowling and Smith's Hollywood Babble-On and an unnamed comic-book-themed show will never make it to air.
So if you hate reality TV, congratulations! AMC will no longer be contributing to the deluge of half-baked programming. Instead, it will make more shows like Breaking Bad, Mad Men and The Walking Dead.
Why AMC decided reality TV is dead: The network concluded that the kind of viewers they want are more interested in the high-quality, scripted TV shows that have won AMC critical acclaim in recent years.
"Scripted originals are at the core of the AMC brand," AMC told Deadline. "Iconic shows like Mad Men, Breaking Bad and The Walking Dead have driven AMC's evolution into a must-have television network. 
"We are proud of our efforts in unscripted programming and the unique worlds we have been able to introduce, but in an environment of exploding content options for viewers, we have decided to make scripted programming our priority."
AMC isn't the only cable network to conclude that chasing easy views ultimately hurts their ability to focus on delivering quality content. The USA Network recently embarked on a purge of half-hour comedy shows in order to focus on longer, hour-long dramas. Both networks apparently came to the conclusion that an increasingly competitive network TV market leaves little room for filler.
What it means for you, the TV viewer: In AMC's case, this means that two upcoming spinoffs of beloved content — Better Call Saul, featuring Breaking Bad protagonist Walter White's shady lawyer Saul Goodman and a yet-to-be-detailed Walking Dead companion series — fit much better into their strategy than shows about arm wrestling. The two survivors of the cut, Talking Dead and Comic Book Men, both appear to have done so through the virtue of sky-high ratings.
Still, critics aren't totally convinced. Redditors noted that Breaking Bad and Mad Men were essentially happy accidents for the network, while CinemaBlend said that the move ultimately goes against all of TV's conventional wisdom. But it will be a happy switch for people like UpRoxx's Dustin Rowles, who in 2012, called AMC's new reality programs an attempt to "destroy its brand."
On top of that, the move seems to signal a response to a new generation of TV viewers who grew up during the huge boom of reality shows starting around 2000 when Survivor became a huge hit and every network scrambled to adopt the cheap, easy and popular reality format, most of which lives on different parts of the spectrum of "reality." 
But as younger audiences have been drawn less toward reality shows and more towards smart, well-made dramas, AMC's move seems both smart and welcome. Move over Real Housewives, it's time for some actual television.