Stunning Images Show Protestors in St. Louis Demanding Justice for Police Brutality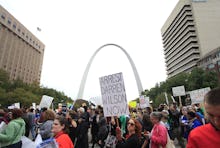 Thousands of people turned out this weekend to protest yet again the police shooting of unarmed Ferguson, Missouri, teenager Mike Brown, the black teenager shot in August by white officer Darren Wilson. 
A planned "Weekend of Resistance" has kicked off to a strong start. Protests began on Friday in Clayton, Missouri, against a county prosecutor cozy with local cops and returned to Ferguson that night for a candlelight vigil and protest outside the police department, which eventually culminated in a 12-mile march to downtown St. Louis on Saturday.
Unlike previous protests against Brown's deaths, the current round of demonstrated attracted riot cops and armed officers but no reprisals. Instead, the Washington Post's Wesley Lowery reported, they "remained silent and stoic, allowing protesters to take over the entrance to the police station and to chant and shout just inches from their faces."
"Who paid for that gear? You didn't buy that shield, officer. We bought that shield. That's our shield," activist Bassem Masri told the cops. On Saturday, the Associated Press said the protests included Vietnam-era peace activists, clergy and seminarians and hundreds of low-wage workers from other cities like Chicago. 
Organizer Alicia Garza told In These Times that "people are getting stronger, they're getting sharper, they're getting smarter, and that's really inspiring ... The other feeling that I get in Ferguson is one of real hope and resilience. People have not forgotten. It's been sixty days of continued and ongoing resistance. People have faced some of the ugliest shit that they could, and they're still here."
These photos help tell their story.
On Friday night, protesters held a candlelight vigil remembering Brown and other victims of police violence.
Later, protesters nonviolently confronted state, St. Louis county and other police officers assigned to guard Ferguson's police headquarters.
"Don't shoot" signs are still being waved...
...as was this inverted American flag telling the police department to respect their rights.
These men carried a reflective glass coffin, suggesting to fellow protesters that any one of them could be inside.
This child held a sign letting Ferguson cops know that he will become an adult who remembers Mike Brown.
On Saturday, protests in downtown St. Louis reached critical mass, with 1,000 to 2,000 attendees reported by the AP. Protesters marched past a statue of Dred and Harriet Scott in downtown St. Louis.
Two months after Mike Brown's death, it seems clear that community members, activists and everyday people who have to live the reality of police oppression day in and out do not consider this issue settled. They want the change and answers they were promised, and Ferguson officials still aren't giving them.\
Correction: Oct. 13, 2014