Watch a Man Use a Revolutionary Bionic Eye to See for the First Time in 33 Years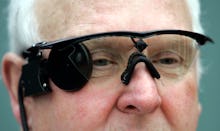 The news: Sixty-six-year-old Larry Hester is seeing the world in a whole new way today.
After losing his vision to the degenerative disease retinitis pigmentosa more than three decades ago, the Raleigh man has become the first in North Carolina to receive an Argus II Refined Prosthesis System, a bionic eye that allows him to see contrasts in light and shadow. Durham's Herald-Sun reports that the $145,000 electronic device required four hours of surgery to integrate with Hester's optic nerves. It's the seventh device of its kind to be successfully implanted in the U.S.
You can see Hester experience the return of his eyesight in the video below:
As it's switched on, Hester immediately sees bright lights and announces, "Yes! Oh my goodness. Yes!" His wife, Jerry, rushes in for a kiss.
How it works: The device uses three components: a tiny digital video camera embedded in a pair of glasses, a miniature computer and a wireless implant consisting of 60 electrodes. The video camera transmits a live feed of the patient's cone of vision to the computer, which translates the images into a series of flashes of light. With the implant, the computer bypasses damaged photoreceptors in the eye by stimulating the optic nerve directly.
The device isn't advanced enough to restore his vision entirely; Duke University surgeon Paul Hahn told the Herald-Sun, "The patients are really getting a different type of vision than anyone's used to." According to the Daily Mail, Argus II is just sophisticated enough to give Hester "a visual aid that could help [him] distinguish a door from a wall or a crosswalk painted in a roadway." Fireworks, for example, would appear as flashes of light.
"It's so basic," Hester says in the video. "The light is so basic and probably wouldn't have significance to anybody else. But to me it's meaning I can see light. And we can go from here."
In its clinical assessment, the FDA rated the device highly:
Results of the clinical study showed that the System helped subjects: Identify the location or movement of objects and people; recognize large letters, words, or sentences; and helped in other activities of daily life, such as detecting street curbs and walking on a sidewalk without stepping off.
What's next: Hester can learn to use his new bionic eye to increase his independence and functionality, but will require extended sessions with an occupational therapist to unlock its full potential. Hahn isn't expecting miracles, but told the Herald-Sun that Argus II was just the first device to emerge in this "new era of medicine." Those who have received the device say that it has refreshed their hopes that within their lifetimes, medical technology will advance far enough to restore their vision entirely.
"I told my wife for years, 'I don't know when, what or how, but I will see again," Roger Pontz, the second person in the U.S. to receive the implant, told CNN in June. "You got to believe in yourself. I always have. Someday, yes, I will see again. I didn't know how, where, when — but it's happening now."