'Revenge Porn' Is About to Become a Criminal Offense in the UK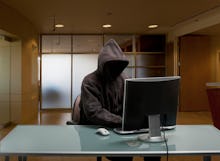 The news: In the United Kingdom, the law is about to catch up to technology.
According to the Guardian, "revenge pornography -- the act of sharing sexually explicit images of former partners without their consent -- is to become a criminal offense punishable by up to two years in prison [in the U.K.]" 
British Secretary of State for Justice Chris Grayling announced the new legislation on Sunday, the Guardian reports. The legislation, which covers the release of explicit images both online and in print, is currently moving through Parliament.
"The fact that there are individuals who are cruelly distributing intimate pictures of their former partners without their consent is almost beyond belief," Grayling told the Guardian. "We want those who fall victim to this type of disgusting behavior to know that we are on their side and will do everything we can to bring offenders to justice. That is why we will change the law and make it absolutely clear to those who act in this way that they could face prison."
"Circulating intimate photos of an individual without their consent is never acceptable," said Secretary of State for Education and Minister for Women and Equalities Nicky Morgan. "People are entitled to expect a reasonable level of respect and privacy."
"It is not a scandal. It is a sex crime. It is a sexual violation. It's disgusting. The law needs to be changed, and we need to change," said actress Jennifer Lawrence, the center of the massive celebrity nude leak. "Just because I'm a public figure, just because I'm an actress, does not mean that I asked for this. I started to write an apology, but I don't have anything to say I'm sorry for." We see strains of Lawrence's logic in the U.K. legislation, a positive sign that norms of privacy and consent are finally being enshrined in the laws that govern our daily lives.
For those who have been a victims of revenge porn or nude photo leaks, from Lawrence to the residents of Arizona, the U.K.'s new legislation may be a sign that governments around the world are finally starting to take this new brand of sexual assault seriously.
Editors Note: Mar. 3, 2015 
An earlier version of this article cited the Guardian's reporting, but did not include quotations around the cited passage. The story has been updated to fully attribute the Guardian's language.