Breathtaking Photos of Syria From Space Put the Country's Civil War in Perspective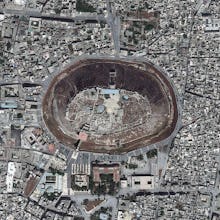 Syria is still at war.
Zaatari Refugee Camp in Jordan
"Zaatari is becoming an informal city," the New York Times reported in July on the Zaatari Refugee Camp in Jordan, just across the border from Syria. "[It's] a sudden, do-it-yourself metropolis of roughly 85,000 with the emergence of neighborhoods, gentrification, a growing economy and, under the circumstances, something approaching normalcy, though every refugee longs to return home."
These satellite images show the expansion of the Zaatari Refugee Camp in Jordan over six months in 2012 and 2013.
Sept. 2, 2012:
Dec. 13, 2012:
Jan. 3, 2013:
Feb. 23, 2013:
Looting of archaeological heritage sites
The following images document the scale of destruction that looters continue to inflict on archaeological heritage sites during the ongoing conflict in Syria. Before looting began, this unique Classical-period site, founded in the 3rd century BC and occupied until the 3rd century AD, demonstrates the diversity of the ancient Middle East. 
According to Bureau of Educational Cultural Arts, "one of the world's earliest churches was discovered here, as was one of the oldest preserved synagogues and numerous temples devoted to polytheistic deities."
This important site of approximately 150 acres is now covered by looters' pits.
Syrian refugees fleeing their homes
Thousands of Syrian refugees are shown crossing a bridge over the Tigris River into northern Iraq. 
A border crossing in Salemeg, Syria, where refugees are trying to leave the country.
Roadblocks in Aleppo
An overview image of Aleppo, Syria, contains analysis from the American Association for the Advancement of Science, showing the proliferation of roadblocks within the city, with 1,171 roadblocks visible as of May 2013.
Damage around the Citadel in Aleppo
Satellite images of The Citadel, Aleppo, Syria, were collected in May 2013. Added to the World Heritage list in 1986, Aleppo is home to a massive medieval fortress built during the 13th century.
Map guide from AAAS: "Between December 2011 and July 2014, the Ministry of Justice building was heavily damaged (red arrow), as was the Khusriwiye Mosque (green arrow). The Carlton Citadel Hotel (blue arrow) was completely destroyed along with many surrounding structures (yellow arrows)."
By August, the Khusriwiye Mosque had been almost completely demolished (green arrow), the Grand Serail was heavily damaged (orange arrow) and the dome of the Hammam Yalbougha an-Nasry was destroyed (purple arrow). 
Editors Note: Mar. 5, 2015
An earlier version of this article failed to cite passages from the AAAS and Bureau of Educational Cultural Arts in accordance with Mic editorial standards. The article has been updated to properly attribute the language to both.