Intense Photos of Athletic Greatness From the Ironman World Championship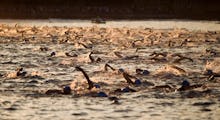 The Ironman triathlon is one of the most grueling competitions: Imagine pushing through a 2.4-mile swim while hundreds of the world's best athletes thrash beside you, followed by a 112-mile bike race and a 26.2-mile marathon — all in one day. It's the equivalent of, as Sports Illustrated puts it, "140.6 miles of soul-challenging, gut-wrenching, adrenaline-driven insanity."
It's the intensity of these events that brought more than 2,000 athletes to Kailua-Kona, Hawaii, on Friday for the Ironman World Championship. The Associated Press reported that Germany's Sebastian Kienle won the championship for the first time, beating second-place Ben Hoffman, an American, by more than five minutes. Kienle, 30, completed the race in 8 hours, 14 minutes, 18 seconds.