A Federal Judge Just Struck Down Alaska's Same-Sex Marriage Ban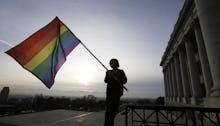 A federal judge on Sunday struck down Alaska's ban on same-sex marriages, the first in the nation, paving the way for gay couples to begin marrying in the state for the first time.
According to the Associated Press, "five gay couples had asked the State of Alaska to overturn a constitutional amendment approved by voters in 1998 that defined marriage as being between one man and one woman. The lawsuit filed in May sought to bar enforcement of the ban."
The Associated Press reported the state has a three-day waiting period between applications and marriage ceremonies, which means same-sex couples will likely have to wait before they can begin to wed.
Editors Note: Mar. 3, 2015 
An earlier version of this article cited Associated Press reporting, but did not include quotations around the cited passage. The story has been updated to fully attribute the Associated Press' language.