American Nurses Have No Idea How to Handle Ebola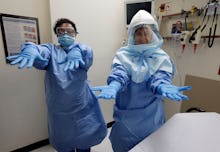 The news: Ebola hysteria is alive and well, especially since last week's first person-to-person transfer of the disease on American soil. That transmission shows there may be some glaring holes in our health system's preparedness to handle Ebola.
According to the Centers for Disease Control and Prevention, the infected woman is a health care professional who had close contact with Ebola patient Thomas Eric Duncan, who died on Wednesday. And while President Obama has asked federal authorities to tighten protocols, we still don't understand how the transmission happened in the first place.
"We don't know what occurred in the care of the index patient, the original patient, in Dallas, but at some point there was a breach in protocol, and that breach in protocol resulted in this infection," CDC director Thomas Frieden said at a press conference.
Nurses know they're not ready: Health care professionals haven't been sufficiently prepped on safety and protocol regarding the handling of the Ebola virus, and they're speaking up about it. On Sunday, National Nurses United, the largest nurses' union in America, reported that 85% of 1,900 nurses surveyed said their hospitals did not provide enough education about Ebola.
"Handing out a piece of paper with a link to the Centers for Disease Control, or telling nurses just to look at the CDC website, as we have heard some hospitals are doing, is not preparedness," said Bonnie Castillo, a senior official with National Nurses United.
"As has been shown in Dallas, they are not prepared," NNU co-president Deborah Burger said in a press conference. "There is a huge vacuum in both credibility and implementation. We're still not clear on why our hospitals are dragging their feet. We think there may be a bit of denial involved in this."
That's not all the U.S. is messing up: National Institutes of Health director Francis Collins has spoken frankly about how budget cuts have slowed down research and restricted resources when it comes to dealing with Ebola.
"[The] NIH has been working on Ebola vaccines since 2001. It's not like we suddenly woke up and thought, 'Oh my gosh, we should have something ready here,'" Collins told the Huffington Post on Friday. "Frankly, if we had not gone through our 10-year slide in research support, we probably would have had a vaccine in time for this that would've gone through clinical trials and would have been ready."
Meanwhile, the CDC's emergency preparedness budget has been cut by half since 2006, limiting federal resources at its disposal.
While Ebola patients in the United States have much higher chances of survival due to infrastructural advantages, the fact remains that the U.S. health care system could be much better equipped to handle this. With nurses lacking essential training to both treat the disease and protect themselves in the process, and with researchers unable to conduct their work with adequate funding, America has a lot to rethink when it comes to disease preparedness.