Redskins Owner Thinks Hanging With Native Americans Will Fix His Team's Big Problem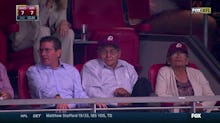 When some white people face valid accusations of racism from people of color, they fall back on a common defense tactic employed to disarm any criticism: tokenism.
At Sunday's Washington Redskins game, embattled owner Dan Snyder seemed desperate to send a message to everyone watching that he and his team name aren't the least bit racist, despite protests from civil rights groups and Native American advocates. 
How'd he do it? By taking his new friends out to the game — the outgoing president of the Navajo Nation and his wife. 
Ben and Martha Shelly lounged in Snyder's VIP box, each wearing Redskins caps. That's despite protests outside the stadium, calling on Snyder and team officials to change the name and retire the mascot, both of which have been derided as hurtful reminders of the colonization and genocide against Native peoples in America. 
Shelly is the outgoing Navajo Nation president for a reason: He got trounced in the most recent elections, coming in seventh after the August presidential primary.
The "disgraced" leader, as reported by Deadspin, has been no stranger to controversy within his own ranks. Even after entering office amid charges of fraud and theft, he faced pushback from other members of the Navajo Nation for accepting a sponsorship deal from the Redskins' Original Americans Foundation for a charity golf event put on by the nation's radio station. 
And although the Navajo Nation Council voted 9-2 in support of a team name change, Shelly still staunchly supports the Redskins keeping their name. That stance is out of alignment with many of his peers and constituents, who have no desire to keep watching white people enjoy football games dressed like this:
The issue has also warranted government action, with President Obama joining a chorus of voices calling for a rename and the U.S. Patent and Trademark Office canceling six federal trademarks associated with the team's name, citing the offensive nature of the term "redskin."
But despite all the pushback, it seems that Snyder will stop at nothing to convince millions of people, including the Navajo Nation and other Native American groups, that there's nothing wrong with a team name historically rooted in racism — even if that means using Native Americans as props on national television.