A Woman Was Fired From Her Job for Taking a Stand Against Sexual Harassment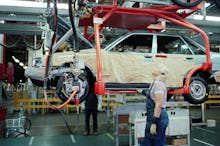 For April Holt, as well as countless other women, sexual harassment in the workplace is just a part of the job.
Holt, who worked as a truck assembler at a Daimler Trucks North America, plant in Mt. Holly, North Carolina, was allegedly fired from her job after reporting that a male coworker sexually assaulted her. 
"Around Dec. 5, 2012, a male coworker of Holt's asked her if he could borrow her wrench," the complaint filed by the Equal Employment Opportunity Commission reads. "Holt was bent over a truck on the assembly line at the time, and the top of the wrench extended out of Holt's back pants pocket. Before Holt could respond, the coworker reached into Holt's back pants pocket with a flat hand and removed the wrench, while rubbing his hand over Holt's buttocks." 
Holt was fired from her job less than a week later after reporting the harassment to her team leader.  The EEOC said Holt was "fired because she complained about what she reasonably believed constituted sexual harassment."
Holt's story represents another instance of a woman being punished for fighting against sexual harassment. In cases like that of Holt's or Jennifer Williams' — who was fired from her job after discovering the workplace "rape room" — women are fired so that the culture of sexual violence prevalent in the workplace remain intact. 
"People who complain about behavior that they reasonably believe to be harassment should be free to do so without threat of reprisal," said Lynette A. Barnes, regional attorney for the commission's Charlotte District Office. "The EEOC will continue to litigate complaints of retaliation made by employees who are simply attempting to protect their rights."  
But while Title VII of the Civil Rights Act of 1964 legally prevents punitive action against "workers who complain about discrimination," the fact that, as ThinkProgress reports, "There were 7,256 EEOC charges in 2013, and there were over 11,000 2011 when EEOC charges were combined with those made at state and local Fair Employment Practices agencies," proves that quite a few workplaces show regard for this law.
It is the culture of violence against women, perpetuated by the utter disregard at play in Holt's firing, that women are keenly aware of and that functions as a stigmatizing or prohibitive measure against their willingness to report harassment. 
ThinkProgress cited a recent survey where states that 1 in 5 women have been "sexually harassed by a superior and one in four said they'd been harassed by a coworker." Women don't speak up because they know that they — and not the perpetrators — will be found guilty and will be penalized.
Even though the law is on a woman's side, it functions retroactively in cases like Holt's. For sexual harassment in the workplace to end, stronger preventative measures need to be legally put in place.