John Oliver Wants to End This Pumpkin Spice Thing Once And For All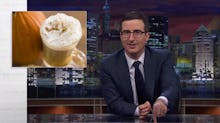 Last Week Tonight didn't air this Sunday, but host John Oliver didn't leave us hanging. In a short clip to tide us over for next weekend, Oliver dissected the tyrannical seasonal domination enjoyed by ubiquitous "pumpkin spice" products like Starbucks' infamous lattes.
Pumpkin spice lattes are "the coffee that tastes like a candle — and I don't mean it tastes like a candle smells," Oliver quipped. "Pumpkin spice lattes taste like a candle tastes." He also compared eating and drinking faux-pumpkin products (it's true, PSLs contain no actual pumpkin) to accidentally eating spiders in your sleep.
Oliver goes on to note that the average American eats about "five pounds" of pumpkin per year, which he insists is greater than the pumpkin content of five whole pumpkin pies. In fact, an analysis of GrubHub menus found that most of that pumpkin may be going into things like curries, cheesecakes and ravioli, with just 3% of pumpkin-containing menu items being pies.
With 200 million-plus units sold, Starbucks insists that PSLs are by far their most popular seasonal beverage, while CNN Money reports that pumpkin sales have risen 34% in the past five years. Demand for pumpkin-flavored products rose 14% in the past year alone. They're creeping earlier into the seasonal calendar, now starting to appear in August. The PSL even has its own Twitter account, with more than 95,000 followers.
In other words, the pumpkins (or something sort of like them) are winning. Let's hope they don't find some kind of pumpkin king to rally behind.