One Tweet Sums Up Everything Wrong With the Reaction to Amanda Bynes' Meltdown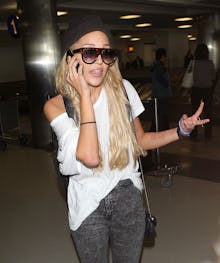 Amanda Bynes is facing mental health troubles yet again — and it's no laughing matter.
Sadly, many watchers of the 28-year-old actress are having a ball over her misfortunes, making light of a woman who, despite her relative fame and fortune, is obviously in distress. And it took one savvy Twitter observer to poignantly highlight the striking dissonance on social media:
The American public reacted strongly to news of Robin Williams' Aug. 11 death, with many asking why a comedian who seemed happy and brought so much joy to the world would commit suicide. Reports showed that the beloved actor struggled for years with bipolar disorder and maintaining sobriety, which became even harder as he privately coped with the early stages of Parkinson's disease. 
Whereas most treated Williams' story with compassion and empathy, that same understanding isn't being extended to Bynes in her time of need.
While we can remember Williams for his cheery public demeanor, we're likely uneasy seeing Bynes' private demons. A recent string of tweets from Bynes — the first since last May, which included now-deleted allegations of sexual abuse against her father — unleashed intense mockery rather than concern:
These tweets are troubling. Bynes, who has struggled with drug abuse, alcoholism and erratic public behavior since retiring from acting in 2010, only just got out of a court-ordered conservatorship with her parents in September. According to reports, they thought she'd gotten better, but apparently she still very much needs their help, along with the supervision of professionals who can get her back on the right track. 
Left untreated, mental health issues can be debilitating and life-threatening, even leading to suicide. According to the National Alliance on Mental Illness, suicide is the third-leading cause of death for young adults ages 15 to 24. And some have linked bipolar disorder and schizophrenia, which are both closely associated with suicide, with Bynes' behavior.
Perhaps instead of lampooning Bynes, everyone can take a moment to think before laughing at someone who needs support. Because that can make all the difference between recovery or a tragic end. 
Need help? In the U.S., call 1-800-273-8255 for the National Suicide Prevention Lifeline.
Updated: October 14, 2014, 1:30 p.m. — The story has been updated to reflect that a satirical Harry Potter account took the tweet from another user without proper attribution. The tweet in question has since been replaced with the original.