Massive Poll Reveals the Big Thing Young People Around the World Have in Common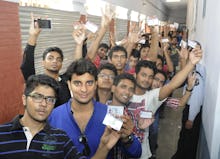 The news: From a stagnant global economy to ongoing armed conflicts, there is plenty for Millennials to worry about. But a new, massive survey suggests quite the opposite: Millennials are actually more optimistic about their futures than their elders are.
The survey, conducted by telecom giant Telefónica, asked thousands of young people around the world how they felt about their future and prospects. The results: Times are hard, but most Millennials still believe they can make a local difference, and nearly half believe they can make a global difference, as well. 
Latin America is home to the most "very optimistic" Millennials at 62%, while France and Japan clocked in at just 21-22%, the lowest in the world. Up from 35% last year, the U.S.'s 43% places it squarely in the middle. 
"The Millennials in the U.S. are more optimistic about the state of the country, about their personal lives, about their future and about possibilities" than are older Americans, Alfredo Timermans, chief executive of Telefónica Internacional USA, told Al Jazeera.
But the positive feelings did not extent to the economy. Only Millennials in Asia felt as though regional and global economies were "on the right track."
While the economy was a top concern across the globe, so was education:
Nearly half the Millennials around the world felt that bettering education was the key to improving other social issues:
And throughout the world, around half of Millennials felt as though their national governments did not reflect their voice:
But one area where Millennials saw a lot of opportunity was entrepreneurship, "with 84% of U.S. Millennials surveyed saying they believe they have a chance to develop and bring an idea to market. Two-thirds of American Millennials said they were interested in working overseas, primarily for the cultural experience."
The takeaway: While there is plenty for Millennials to be worried about, they are not letting adverse circumstances — a struggling economy, failing education systems, political conflicts — get them down. Rather, Millennials are increasingly relying on technology and the spirit of entrepreneurship to make their voice heard and leave their mark on the world.