Nick Jonas Really, Really Wants to Be a Gay Idol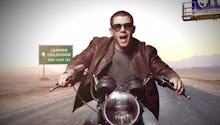 Remember little Nick Jonas of the Jonas Brothers? Well, the teen heartthrob is back on the pop music scene with a little less than a month until his big solo release. Only he isn't exactly doing the Jonas Brothers schtick anymore: Where once the conservative boy band was squeamish about their gay fans, Jonas is now actively courting them. Very actively.
It may be surprising to many, since purity-ring-wearing Jonas has been painted rather conservatively since he was a teenager, but the singer recently admitted that the Jonas Brothers didn't embrace their gay fans as much as they should have. 
"When my brothers and I started touring and had some success, naturally they became a pretty big part of our following. I don't know that we ever did enough to really own that," he told Hollywood Life. Now, he seems to want to make up for lost time: "I really want to make an effort to embrace the community with open arms."
And how open. As thoughtful as his strategy may sound, Jonas' embrace is looking more like a targeted demographic manipulation rather than empowerment. He had a seductive spread in Flaunt magazine's "Grind Issue" a couple weeks ago. Videos and photos have surfaced of Jonas going to gay clubs in New York City, dancing around to his own song and awkwardly opening and closing his shirt. Maybe it's pure shyness, but it seems that a guy who wants to connect with his fans would actually engage and interact with them, as opposed to leading with his abdomen as if he courting a gay fan base were simply a question of abs rather than, say, musical quality or real understanding.
Jonas insists that it's genuine, but the fact is he's been a pop star without a core fan base for a little while now. In 2010, when the three-piece tween sensation started to fall in the shadow of Justin Bieber, it seemed as if the road of success for the Jonas Brothers had come to a halt once and for all. They tried once to recapture their tween faithfuls with a "Stomp The Yard"-esque anthem called "Pom-Poms," but it was a flop, and they slowly faded from the spotlight. 
Nick Jonas maintained some star power by moving out of music and into theater and the tabloids. He had a starring role in How To Succeed In Business Without Really Trying on Broadway, made some TV show cameos, started dating Miss Universe 2012 and grew some abs. In fact, his shirtless selfie that he posted on Instagram in 2013 was the catalyst that launched his quest to make a comeback in music. Then came the gay-baiting.
But the LGBT community is well aware of the ploy. Some gay fans have claimed indifference to Jonas' alleged ulterior motives. But as Jonathan Brown of Rant Lifestyle put it, Jonas' "gay pandering" is disrespectful and actively damaging. 
"When someone is very obviously using a community of people just to put some money in their pocket, things become complicated in two ways," wrote Brown. "Not only is disrespectful to that audience, but it also casts a bit of doubt on how talented that entertainer actually is. 
"It's nothing more than a publicity stunt, and you can't make a successful career out of that."
Brown say's what's most irritating about Jonas' "publicity stunt" is that he's been purposefully toying with gay fans by hinting that his character on the new DirecTV series, Kingdom, may be bisexual. This is a ploy that has been mirrored by female celebrities as well, such as Nicki Minaj and Jessie J, who have both suggested that they might be bisexual while not necessarily giving any other evidence of their bisexuality. There's nothing wrong with questioning your sexuality or with bisexuality, but claiming it for the sake of ingratiating yourself to an LGBT fan base is only ever problematic.
Jonas expressed his disappointment in the many skeptics who have challenged him on the allegations of "baiting" gay fans.
"Clearly my heart is in the right place, and more than anything," he told Pride Source, "if they just looked at my life and my gay friends and the authentic nature of where my heart is, they'd just see that they're kind of ignorant."
You can have gay friends and still be attempting to profit off a community. Also, last time we checked "I have gay friends" wasn't an excuse for anything. Given the state of his career and the Jonas Brothers' past, this seems like an attempt to use an identity as a leg up rather than any attempt to actively empower the LGBT community. Even if Jonas does support the community, this is no way to show it. The worst part, though, is that this shouldn't even be necessary. If his single "Jealous" is any indication, he has the musical chops to make this comeback — to earn fans the way fans are meant to be earned.