There's Only One Republican Who Would Beat Hillary Clinton in Iowa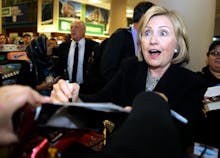 Ann Romney says her husband is "Done. Done. Done" with running for president. But voters in Iowa are doing their best to get Mitt Romney back in the ring for another shot at the White House.
In a new Des Moines Register/Bloomberg Politics poll, Romney beats out Clinton in a one-on-one matchup, narrowly surpassing the early Democratic frontrunner 44% to 43%.
No one else from the rest of the likely Republican field — from party establishment favorites like Jeb Bush, Chris Christie and Paul Ryan, to relative outsiders like Rand Paul, Marco Rubio and Ted Cruz — polled better than the former secretary of state. Clinton is likely to run but continues to put off any formal decision.
Ryan, Romney's running mate in 2012, did the best of the non-Romney options, losing to Clinton by a single point. Cruz, the outspoken junior senator from Texas, lost by 10 percentage points.
With a little more than 448 days until Iowa caucus-goers select their nominee, there's plenty of time for someone who isn't Romney to close the gap, and he — and Ryan — certainly benefit from the name recognition they accrued during the last campaign. But unlike most states around the country, Iowa has gotten at least a glimpse of almost all the potential candidates. Since May, each one has made at least one trip to the Hawkeye State, which will host the first primary caucus Jan 5, 2016.
So what does it mean for Clinton? The Register offers this worrying analysis:
"Despite her polling power over the Republicans, Clinton remains a polarizing figure in Iowa. Her favorability rating is upside down: 49% of likely 2014 voters have a negative view of her, 2 percentage points more than those who view her favorably (47%).
Clinton is and will remain immensely popular with Democrats and equally polarizing when placed in the cauldron of a national political campaign. But with no meaningful challenge coming from inside the party, those "unfavorable" statistics are unlikely to get much worse before a general election fight. 
As for Romney, his wife tried to slam the door on a possible run in two years. But that crack, that glimmer, will remain until Bush sends a strong indication that he wants to be the presidential nominee and the party's big-money donors start coalescing around his name. If and until that happens, the Romney 2016 chatter will continue.