In One Quote, Paul Ryan Continues the GOP's War on Science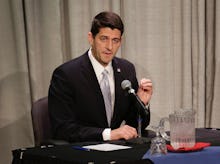 Paul Ryan isn't so sure human beings can be blamed for climate change.
"I don't know the answer to that question. I don't think science does, either," Ryan (R-Wisconsin) said when asked if human activity has contributed to climate change during a debate Monday against his Democratic challenger, the Associated Press reported.
According to Ryan, because "climate change has been around forever," efforts to combat it are "costly and unproven."
This isn't the first time Ryan has questioned climate change. In July, Ryan said that "climate change occurs no matter what. The question is, can and should the federal government do something about it."
Ryan's questioning coincided with the Pentagon's release of plans for the U.S. military to address climate change. According to the report, "2014 Climate Change Adaptation Roadmap," the challenges of climate change will reshape the military's responsibilities, including an increased frequency of humanitarian assistance during natural disasters and the introduction of different weapons and other equipment to work under more extreme weather conditions, the Los Angeles Times reported. 
Defense Secretary Chuck Hagel delivered a much different perspective than Ryan's at the Conference of Defense Ministers of the Americas on Monday. "Rising global temperatures, increasing sea levels, and intensifying weather events will challenge global stability, he said, according to the Los Angeles Times. These challenges could include shortages of food, water and other resources as well as an epidemic disease.
Despite this seemingly convincing counterargument, Paul's opinion on climate change is popular in the Republican Party. But maybe, for once, politics should be left out of it. Because while Ryan may not know, it sure seems like science does.