This Legally Blind 11-Year-Old Is Set on Olympic Gold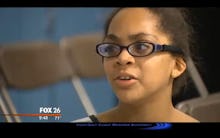 Gymnastics is a sport for the seriously committed. It requires strength, acrobatic ability and discipline, plus a certain amount of fearlessness. That's a challenge for anyone, at any age, let alone at 11. 
Imagine practicing on a balance beam or the uneven bars while legally blind. Sixth-grader Adrianna Kenebrew of The Woodlands, Texas, does it every time she gets on the mat. 
Kimberly Yen, a pediatric ophthalmologist who works with Adrianna, told Today that the young gymnast's vision with glasses is 20/400 in her right eye and 20/150 in her left. 
Adrianna was diagnosed with congenital glaucoma at five months old. Her mother, Asha Kenebrew, told Today that her daughter has had "13 or 14" surgeries because of her condition. If going through that wasn't impressive enough, Adrianna trains with "no special assistance, aside from simple audial cues." 
This stands in marked contrast to most of the rest of her day-to-day life, where she uses a number of different machines and follows certain routines to accommodate her disability. According to Kenebrew, her daughter finds solace in the fact that "no real accommodations are made for her" when she steps in the gym.
"I think she takes [it] one day and one meet at a time. She really never says 'I can't,'" Kenebrew told Houston TV station Fox26.
It's all normal for Adrianna. "I just think of it as my vision for what I'm trying to accomplish," she said. "I want to be the first visually impaired gymnast to win gold at the Olympics."
Heads up, U.S. Women's Gymnastic Team: Adrianna is coming.
h/t Huffington Post