Republican Lawmaker Says Democrat Will Lose Because She's 'Ugly As Sin'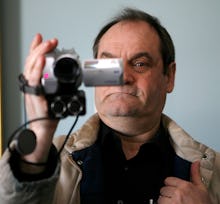 A New Hampshire lawmaker has declared the race for the state's 2nd congressional district done and dusted, writing in a rambling blog posted to NH Insider that incumbent Democrat U.S. Rep. Ann McLane Kuster is doomed to lose her re-election battle because she is "ugly as sin."
Republican Steve Vaillancourt described Kuster's challenger, Marilinda Garcia, as "one of the mot (sic) attractive women on the political scene." He writes Garcia is "not so attractive as to be intimindating (sic), but truly attractive." The reader can only suppose it's the subject of her looks that renders Vaillancourt incapable of dragging his knuckles coherently across a keyboard.
What follows is a 187-word, 1013-character meditation on just how unattractive Vaillancourt finds Kuster, whom he declares "looks more like a drag queen than most men in drag."
Garcia's campaign was quick to distance itself from the rant, releasing a statement Monday in response:
"State Rep. Vaillancourt's recent comments about Rep. Ann Kuster are sexist and have absolutely no place in political discourse. Both Rep. Kuster and I have experienced this unfortunate reality of being a woman in politics. I hope that as time moves forward and more female candidates run for political office around the country, people will focus on the content of our ideas rather than what we wear and how we look."
Kuster's campaign has yet to respond (to Mic or anyone else). But Jess McIntosh, a spokeswoman for EMILY's List, a political action committee that aims to elect pro-choice female Democrats to office, told the Huffington Post that Vaillancourt "has no business anywhere near laws that affect women or other human beings." (Or political handicapping, for that matter. Kuster, her campaign humming along, leads Garcia by more than 9 percentage points in an average of the six most recent polls cited on Ballotpedia.)
Vallaincourt's blog post has been roundly condemned, but we should reject the temptation to dismiss it as one awful man's rant. Vaillancourt is not an outlier, and neither is Kuster. 
Sen. Kirsten Gillibrand (D-N.Y.) revealed an incident last month from early in her first term in which a male colleague saw fit to comment on her weight, saying, "Don't lose too much weight now. I like my girls chubby!" Hillary Clinton has been dealing with similar nonsense for decades. "Will Americans want to watch a woman get older before their eyes on a daily basis?" Rush Limbaugh asked during the 2008 campaign.
Big, loud attacks like Limbaugh's might be less apparent this time around, but the sentiment fueling them is alive and well.
h/t Huffington Post