A Lot of Conservatives Are Silent When It Comes to Issues Facing Women in the Workplace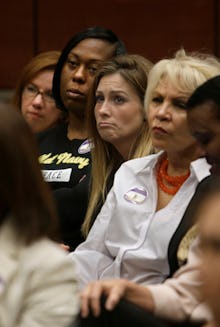 More than a quarter of conservatives have "no opinion" about the most important issues facing working women. 
That's according to a recent Gallup poll that found 26% of conservatives declined to offer a response when asked about "the most important issues facing working women in the United States."
Four in 10 Americans — men and women alike — cited equal pay as the top issue for working women in the U.S., according to Gallup. Only 28% of conservatives saw equal pay as a top obstacle, compared with 51% of liberals, 44% of moderates and 39% of Americans overall.
Here's how different ideological groups view the importance of issues facing working women today:
In an election season where equal pay ranks among voters' most important issues, it's concerning that some don't even see the issue as much of a problem. Although Gallup reports there are "almost as many working women as working men in the U.S. today, and woman are increasingly rising to positions of prominence in business, they still as a group lag behind men in pay and in the percentage of upper management positions they hold." The Washington Post reports women earn 22% less than men on average.
The lagging emphasis on the issue seems indicative of an obstacle to making progress on equal pay. Working women are concerned, but not everyone else is. Just last week, Microsoft CEO Satya Nadella said that women — who are less likely to ask for raises than men — should rely on "karma" for a raise and have "faith that the system will give you the right raise," the Washington Post reported. 
But if the Gallup polls reveal anything, it's that "karma" and "faith" won't earn women equal pay. The problem needs to be solved, but first everyone needs to acknowledge that there is a problem to begin with.