Mark Zuckerberg Just Made a $25 Million Announcement We Can All Get Behind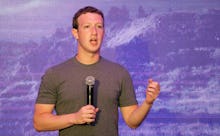 The news: Facebook CEO Mark Zuckerberg and his wife Priscilla Chan have donated a staggering $25 million to the United States Centers for Disease Control and Prevention to help fight Ebola. Zuckerberg made the announcement public with a note on Facebook:
Zuckerberg's money will go to the CDC's Global Disaster Response Fund, and will likely be used for personnel, training and equipment for emergency Ebola care centers in the worst-hit West African countries of Liberia, Sierra Leone and Guinea.
In the comments of his post, when one Facebook user/critic basically asked "why bother," Zuck was ready with another smart and insightful response that demonstrated that there's real thought behind this donation, and it's not being done blindly. 
The background: The money is sorely needed to fight the ongoing Ebola epidemic, which is still dangerously close to becoming an out-of-control pandemic.
Medical staff in the affected regions struggle with inadequate health care systems, outmoded or obsolete medical equipment and underwhelming funding and resources. In Sierra Leone, the Guardian reports that hospitals are running out of basic supplies "ranging from body bags for secure burials to examination gloves to mattresses and pain relief tablets."
"We have almost no protective equipment," academic affairs director Adam Goguen of the University of Makeni told the Guardian. "Hundreds of PPEs (personal protective equipment) a day are needed just to keep the primary holding centre stable."
Other figures reported by the Guardian indicate that five people are being infected with Ebola every hour in Sierra Leone, far outstripping the ability of local hospitals to care for them. In Liberia, health care workers are striking.
"I have never seen a health event threaten the very survival of societies and governments in already very poor countries," World Health Organization chief Margaret Chan said in a statement. "I have never seen an infectious disease contribute so strongly to potential state failure." The WHO believes that the epidemic is now the worst health care crisis in modern history, and it recently confirmed that the death rate in the epidemic has risen to 70%.
Why you should care: In this context, Zuckerberg's money is desperately needed. While the U.S. may ultimately spend up to $1 billion fighting Ebola, the total cost is expected to top $32 billion if it spreads to neighboring countries.
While $25 million is ultimately a drop in the bucket considering Zuckerberg's estimated $33.3 billion net worth, it's still a whole lot of money. Nevertheless, it would be nice if the CDC wasn't reduced to asking for donations in the first place; the director of the National Institutes of Health, Dr. Francis Collins, recently speculated that a decade of stagnant spending on health care research might have prevented an Ebola vaccine from emerging by now.