In Case You Doubted Climate Change, NASA Has a Scary New Weather Fact for You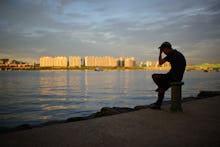 The fact: This September was the hottest September ever since record-keeping began in 1880, according to NASA. That's right: this September was the hottest of the past 134 Septembers in recorded history. What are the odds!? 
And that comes after the hottest-ever August on record. If that's not enough, the past six months have also been the hottest such stretch on Earth since recording began in 1880.
Take a look:
Check out all that red ... not a good look. The global average was about 1.4 degrees higher than the average of every September from 1951 to 1980.
Japan's Meteorological Agency confirmed the new record with a scary chart of its own:
As Weather.com explains, given all of this year's records (we also went through the hottest-ever May), we have a good chance at closing out 2014 as the hottest year in human history. Congratulations, everyone! Let's throw a party where Florida used to be.
What it means: Scientists have been measuring heat waves around the world, and they warn that such events are not going to slow down if we continue down our current path.
In China, for instance, last year brought a blistering heat wave that killed dozens of people and cost about $9.6 billion in damage, according to Mother Jones. In just 20 years, though, scientists estimate that 50% of summers will be even hotter.
As the New York Times reported earlier this year, the climate is already changing in the U.S., with some areas seeing temperatures rise as much as 3 degrees. Your city could see temperatures 10 degrees higher on average by the time the century's over, scientists say.
Higher temperatures mean more flooding, worse storms and migration patterns that could change the face of the country and the entire world. If things keep going at this pace, all these new heat records aren't going to hold for long.