This 12-Year-Old Girl Could Be America's Next Sports Trailblazer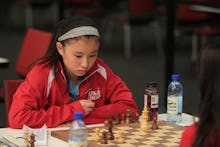 Jennifer Yu is like any other eighth-grader at Trailside Middle School in Ashburn, Virginia, with one major exception: Last month, the 12-year-old became the first American girl in more than a quarter-century to win a title at the World Youth Chess Championship.
Unlike many chess prodigies, Yu is not consumed by the game at the expense of outside interests. She likes playing sports and listening to Taylor Swift, according to a Washington Post profile, and sometimes her mother has to remind her to practice one hour a day. As for her professional ambitions, Yu said at last year's event that she'd rather keep chess a hobby while she pursues a career in medicine.
Yu went undefeated in 11 matches at the tournament in Durban, South Africa, to become the first U.S.-born girl to win a world youth title since 1987. Her breakthrough becomes even more extraordinary in light of how few women play in the top tier of competitive chess.
Even today, chess remains a male-dominated space. The current FIDE rating list includes 1,466 Grandmasters. Of these, roughly 2% — 31 total — are female.
While some researchers have used these stark numbers to claim the mean IQ of men exceeds that of women, a 2009 study attributes the dearth of top women's players to lack of participation.
Although the performance of the 100 best German male chess players is better than that of the 100 best German women, we show that 96% of the observed difference would be expected, given the much greater number of men who play chess. There is little left for biological or cultural explanations to account for. In science, where there are many more male than female participants, this statistical sampling explanation, rather than differences in intellectual ability, may also be the main reason why women are under-represented at the top end.
Women can and have thrived in male-dominated sports, not least the great Judit Polgár, who became a Grandmaster at 15 (breaking Bobby Fischer's decades-old record), defeated 10 current or former world champions and retired in August. What's more, Polgár seldom played in female-specific tournaments and never competed for the Women's World Championship, challenging herself to compete alongside the men as equals.
"I always say that women should have the self-confidence that they are as good as male players, but only if they are willing to work and take it seriously as much as male players," Polgar told NPR in 2010. "If they would have a higher goal, they would also reach higher."
But while Polgár's immaculate record has inspired players for years, it's the success of rising stars like Yu that's bound to embolden the next generation of girls to go head-to-head with the men.