Here's the Science Behind All-Star Athletes' Pre-Game Meals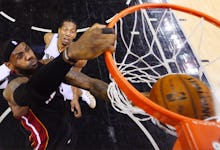 You are what you eat, no one more so than if you're a superstar athlete. Natural ability has something to do with prowess, as well as endless practice and training, but some athletes get that extra juice on game day from their pre-game meals. While some enjoy a balance of carbs and proteins, others decide to go different routes before they head onto the field or court.
Mic talked to nutritionist Heidi Skolnik, who has consulted with the New York Giants, Knicks and Mets, for her insight on each athlete's pre-game meals. Whether you're an athlete yourself looking for tips or just curious, take a look to see what these players are doing right -- or a little oddly.
Sidney Crosby
Sidney Crosby's record with the Pittsburgh Penguins clearly speaks for itself, especially after his 2013 MVP campaign, when he led the league with 36 goals and 104 total points. 
How does he get energized for his game?
"Spaghetti, like most guys. I try to get some pasta," he told PittsburghPenguins.com. Nothing too out of the ordinary: straight carbs for Crosby.
Heidi Skolnik: Hockey players are burning up energy magnified: Short intense bursts of power movement, [so] muscles are utilizing carbohydrates to make that happen. My sense is he must eat more than just pasta. Of course, pasta is good, although he could eat rice or other starchy carbs to achieve the same effect. I wonder when he eats this.
Roger Federer
Tennis great Roger Federer knows something about doing things right, which he's surely learned on his way to 17 singles grand slam titles, seven of those coming at Wimbledon.
Federer told the Daily Mail that the he consumes "pasta the night before [a match], then maybe a chicken salad before the match. And a fruit smoothie."
His pre-match choice of salad and a smoothie is substantially different from the other athletes on this list.
HS: What Roger has down correctly is that the pre-game meal really begins 24 to 48 hours before, as that is how long it takes to really stock your muscles with glycogen, stored carbohydrate energy.
Bryce Harper
At 22 years old, Washington Nationals outfielder Bryce Harper plays hard and absolutely demolishes baseballs. He's already been in the league for three years, but his pre-game meal shows he's still a kid at heart.
In an appearance on Jimmy Kimmel Live last year, Harper revealed his pre-game snack: "I eat Eggo waffles — it has to be Eggo — right before the game. It's really weird. [Peanut butter] and honey. I mean, I'm really superstitious."
HS: Baseball -- well, many athletes from all sports -- is full of tradition and superstition; getting in a groove of what an athlete think works and not wanting to mess with that. Waffles right before a game can "tip off his tank" and provide him with some quick energy to stay clear, keep his reaction time sharp and let him stay fueled for that sprint to home [plate].
LeBron James
At 6 feet 8 inches, 250 pounds, LeBron James is a human freight train. When James gets on the fast-break, which he did plenty with the Miami Heat last year, you want to get out of his way. 
But what does the NBA's best player and four-time MVP eat to get ready for each game? Salmon and grilled pineapple prepared by his chef, it turns out. Earlier this year, James went on a 67-day diet of just "meat, fish, veggies and fruit" that's similar to his pre-game meal.
HS: I would find it surprising if this is the way he has always eaten, and I will be surprised if this is the way he continues to eat a year from now. Of course, salmon is an excellent protein choice, full of those healthy omega-3 fatty acids. Pineapple has bromelain, an enzyme that may help reduce inflammation and pain. It, like all fruits, provides carbohydrate as well, but not enough to fuel an NBA game. I would need to know what else LeBron is chowing down on the day before and day of before I weigh in on whether salmon and pineapple is enough to keep him the king.
Peyton Manning
As you'd suspect from one of the top five quarterbacks of all time, Peyton Manning fuels up big time before his games.
According to Yahoo Sports, Manning has two pieces of grilled chicken, a bowl of pasta with marinara sauce, a plain baked potato, a side of broccoli and Gatorade before each game. 
Cut that meat, Peyton.
HS: And this is one more reason why Peyton is Peyton.  He has the balance down of protein and carbohydrate and fluid and electrolytes. Enough to fuel him, not too much to weigh him down. Of course, at other meals, I am sure he goes for more whole grains and changes up the protein options, but this meal is just as he is, All-Pro.
Russell Wilson 
Seahawks quarterback Russell Wilson has taken the league by storm since getting drafted by Seattle in 2012. He's known for his activity in the pocket and the way he constantly escapes pressure. Anyone would wonder how he charges up for these games.
Wilson told ESPN, "The night before, I'll have a steak. The day of the game, I'll eat pasta. I don't get nervous and not eat; I actually eat a lot to fuel myself through the whole game."
With a Super Bowl championship in his first two seasons, it's clear that not many things make Wilson nervous.
HS: Steak the night before is fine. He is getting in protein and it will all be digested by kick-off. I just hope he has some sweet potatoes and green beans with that (or rice and carrots and greens). In other words, the meal should be balanced, and getting in some of those carbohydrates the day before helps. He does not need to "load" but wants to be sure to eat enough. The day of, it's a matter of timing, eating early enough to get in appropriate calories for the day and in balance so the player does not get hungry.
Russell is right about fueling throughout. Research [on soccer players] shows that consuming as little as 25 grams of carbohydrate at half time can improve speed, number of ball contacts and goals scored in the last 15 minutes of a game.
From Eggos to pasta to steak, players have different techniques to prepare themselves for games. These athletes consistently perform at the highest level in their sport; whatever they decide to eat before they play certainly seems to help.