Finally, One Map Documents the Tragedy Facing North America's Indigenous Women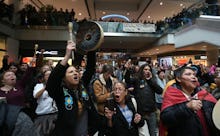 Violence against indigenous women is a long-running epidemic in North America. The statistics are devastating: Amnesty International reports that Native American and Alaskan Native women are more than 2.5 times more likely to be raped or sexually assaulted than their non-indigenous peers.
The situation is equally grim in Canada, where 1,200 aboriginal women have been killed or gone missing since 1980. The crimes have prompted calls for an official government inquiry, which remain unheeded. 
The lack of widespread media coverage around the issue is a troubling and indefensible omission. It's also a major reason why Lauren Chief Elk of the Save W?y?bi Project launched the map below, an interactive attempt to document the individual events that together make up what has become a tragedy of staggering proportions.
Each case is its own unique horror story. But while the map has cited thousands of occurrences, it's still an ongoing project. "[It's] updated probably once every couple of months," Chief Elk told Indian Country Today Media Network. "It could honestly be its own full-time job."
Chief Elk constructed the interactive graphic in collaboration with four other activists. It's "by no means complete," she tells ICTMN, but plans are underway to expand its reach to include Mexico and South America — both regions that have been equally devastated by the ongoing violence of settler colonialism.
The result is both a resource and a visual means of tying faces and names to the numbers. In this way, Tina Fontaine can become a 15-year-old girl with a family and friends, instead of just one of 1,200 faceless victims.
Such insistent humanization is already at play on social media. In September, indigenous women and their allies in Canada launched the #AmINext hashtag on Twitter to pressure Prime Minister Stephen Harper to take action:
But the official response has left much to be desired. With Harper insisting the racial identity of these women be set aside so their cases can be treated as "crimes" instead of "sociological phenomena," it's clear that recognizing the unique disparities they face is an uphill battle.
Similarly, attempts in the U.S. to draw attention to inequity facing Natives — from high poverty rates to the use of Native imagery as mascots for multimillion-dollar sports franchises — are met with repeated resistance.
Perhaps this map can serve as a concrete testament to the tenuous position indigenous people — especially women — are forced to occupy in modern society. But it needs to do more than just inspire sympathy. Hopefully it inspires action as well, and soon, before the tragedy takes an even greater toll than it already has.