The Supreme Court Just Blocked Texas From Closing Its Abortion Clinics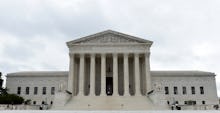 The Supreme Court blocked key parts of a 2013 law in Texas that had closed all but eight facilities providing abortions, the Associated Press reports.
When the law was upheld earlier in October by the 5th Circuit Court, women arrived at clinics over the weekend only to find they were no longer in operation. It also meant that 900,000 of Texas' reproductive-age women lived 150 miles or more from an abortion facility.
"We're seeing the terrible impact these restrictions have on thousands of Texas women who effectively no longer have access to safe and legal abortion," Cecile Richards, president of Planned Parenthood Federation of America, told Reuters. "We're relieved that the court stepped in to stop this, and we hope this dangerous law is ultimately overturned completely."
Editors Note: Mar. 3, 2015 
An earlier version of this article cited Associated Press reporting, but did not include quotations around the cited passage. The story has been updated to fully attribute the Associated Press' language.