8 Months Since Legalizing Marijuana, Here's What's Happening in Colorado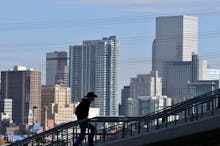 The news: If you had any doubts as to what would happen when Colorado legalized weed, the state is doing just fine. And making mint, as a matter of fact.
Eight months since becoming the first U.S. state to legalize recreational pot, Colorado is seeing record-high sales: According to the latest figures from the Colorado Department of Revenue, recreational sales totaled around $34.1 million in August, up from $29.3 million in July.
September also marked the first time that recreational marijuana sales exceeded those of medical marijuana, which advocates see as a sign that the state's experiment is paying off, with the retail industry taking customers from the black market.
"Most adults use marijuana for the same reasons they use alcohol. Now that it's a legal product, they are choosing to access it in a similar fashion," Mason Tvert, communications director for the Marijuana Policy Project, told Time. "For most Coloradans, buying marijuana in a retail store will just become the norm. It appears that shift in behavior is already taking place."
The chart above, from Christopher Ingraham at the Washington Post, shows just how much recreational sales have climbed in the past few months.
And things are looking stable. As activists on both sides of the legalization debate in Colorado have conceded, the state's model is a work in progress. And while Colorado is far from the lawless hellscape skeptics predicted — Denver's crime rates have actually gone down since legal weed became available — authorities erring on the side of caution.
Last month, the state tightened regulations for both recreational and medical marijuana dispensaries, putting a cap on greenhouse or outdoor production and requiring "responsible vendor training." Pro-legalization activists have also rolled out a statewide awareness campaign to promote responsible pot use.
But there is still political pushback in Colorado. Despite weed tax revenue filling state coffers and worries of a pot-fueled crime spree going unfounded, there is still healthy skepticism in the state regarding its legalization experiment, and it's become a touchstone in the upcoming gubernatorial election.
Republican challenger Bob Beauprez has taken Democratic Gov. John Hickenlooper to task for heading Colorado's legalization, while Hickenlooper has continued to distance himself from the effort, pointing out that he was acting at the behest of the voters.
"I think for us to do that without having all the data, there is not enough data, and to a certain extent you could say it was reckless," Hickenlooper said at an election debate last week. "[I]f it was up to me I wouldn't have done it, right. I opposed it from the very beginning. In matter of fact, all right, what the hell — I'll say it was reckless."
Still, despite Hickenlooper's reservations, he has been at the head of a historical experiment. And so far, things seem to be working out.