This Perfect Interaction Between a Pitcher and Fan Renews Our Faith in Pro Athletes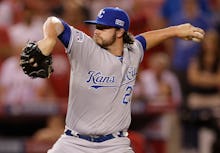 There's no shortage of reasons why the Kansas City Royals have become the darlings of this year's postseason. They're super fun to watch. They party with their fans. They're a small-market team that's managed to outlast the free-spending Angels, Tigers, Red Sox and Yankees.
And after Tuesday's win over the Baltimore Orioles in Game 3 of the American League Championship Series, they improbably find themselves one win from the pennant while teams with far bigger payrolls are home for the winter. Not bad for an upstart club installed by oddsmakers as a 50-1 long shot to win the World Series ahead of spring training.
But what's really set Kansas City apart during its charmed playoff run is an unorthodox approach to fan relations. The Royals add a refreshing, down-home flavor to the increasingly corporate ritual of Major League Baseball's postseason. The latest example came from first-year relief pitcher Brandon Finnegan, who has emerged as a key left-handed option in Ned Yost's bullpen since being selected in the first round of June's amateur draft.
As of Monday, the average ticket price for Kansas City's home games during the ALCS was $335.07 on the secondary market, a predictably steep cost given the team's 29-year postseason drought. That left "broke" Royals fan Nicholas Knapple out of luck — until a shot-in-the-dark request to Finnegan led to a free pair of tickets for Wednesday's game.
"I know how it is for a college kid, to be college-aged. You don't have much money after moving and buying food and everything," Finnegan, who turned 21 in April, told Yahoo! Sports. "I told him to come down here and I'd make sure to give him my autograph and whatever else he wants."
Let it be said it never hurts to ask. Especially when there's playoff tickets — or Kansas City barbecue — at stake.