The Kesha Rape Allegations Reveal One Big Problem We Aren't Talking About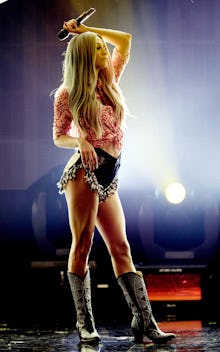 On Tuesday morning, TMZ leaked a lawsuit filed by pop star Kesha Sebert against her longtime producer Dr. Luke, which alleges repeated sexual and psychological abuse throughout their 10-year professional relationship. You can read the document here via the Hollywood Reporter. Some of the more ghastly claims include Dr. Luke, whose real name is  Lukasz Gottwald, forcing Kesha to eat, drink, and snort various drugs including GHB (a date-rape drug he reportedly referred to as 'sober pills'), raping her, striking her, threatening to kill her dog, withholding profits from her music and calling her a "fat fucking refrigerator," which allegedly led her to bulimia.
Gottwald's lawyer filed a countersuit within two hours (and gave a statement to TMZ) claiming that Kesha's accusations are a ploy to get out of her contract with Dr. Luke. The lawyer also claimed that Kesha had presented Dr. Luke with a copy of the lawsuit months earlier, and threatened to publish it unless released from her contract. The statement does not say why Kesha allegedly wants out of her contract. 
But one thing is clear: Kesha doesn't want to work with Dr. Luke any more. But she can't stop their partnership, because pop music is a business founded on the commodification of people. Whether or not Dr. Luke is guilty, this sort of exploitative dynamic is all too common.
Kesha began working with Dr. Luke when she was an unknown 18-year-old living with her family in Nashville, Tennessee. She signed a deal guaranteeing him six records, and over the past 10 years he's masterminded her career with a string of hits, from her career-launching "Tik Tok" to "Die Young" and "Timber." He was behind every aspect of her career, even executive producing her MTV show, My Crazy Beautiful Life. But before the lawsuit, it was clear that things were strained between the two. In a 2013 New Yorker profile of Dr. Luke, John Seabrook alluded to Dr. Luke's stance toward Kesha, writing, "But now that her pop-star dreams had come true she was proving hard to control." 
A few months after the article's publication, the singer checked into rehab for near-fatal eating disorders. When she returned to the spotlight, she'd dropped the dollar sign from her name.
One party is lying, and we have no way of telling which. But there's something sick about the fact that it's this hard for Kesha to regain legal control of her life, and the plausibility of her lawsuit is striking. This sort of thing happens in the music industry all the time. As The Atlantic pointed out, "Of all the sad and salacious details that can be picked out of the lawsuit, the saddest thing of all is how familiar it all sounds." If Kesha is indeed fabricating Dr. Luke's abuse as a means of fleeing her contract, it's ludicrous that that's what it takes to ditch a record deal. If her claims are true, it surpassed ludicrous 10 adjectives ago.
This, then, is a strange form of bondage. What's hardest to stomach about such long, binding contracts is that they are often used to make something innocent and good — music — do something harmful: commodify people. And since it's easier to commodify a person you control and easier to control a person you've demeaned, the commercial pop business quickly unravels into a predator/prey business. Usually, the prey is younger. In pop, the prey is frequently a woman. (It doesn't help that 95 percent of industry producers are men.) And since the industry's chief export and key demographic (teenagers) are interchangeable, there's always a fresh crop waiting.
On Wednesday, Billboard reported that Kesha fans were speculating that one of the singer's unreleased songs, "Dancing With the Devil," was about Dr. Luke. In it, she sings, "You and I made a deal, I was young and shit got real." It's a dark and desperate song. Even if it has nothing to do with her allegations against Dr. Luke, this isn't the sort of song that should ever sound autobiographical. It's a sign — it's time we started consuming music, not people.