This Brutal Video Might Breathe New Life Into Hong Kong's Protest Movement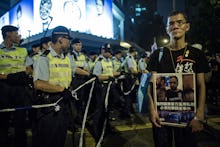 The news: Hong Kong police escorted an activist in plastic handcuffs from a protest staging ground of the "Umbrella Movement" early Wednesday morning to a dark area of the streets and allegedly beat him while the activist laid on the ground, recently released video footage from the local TVB news channel shows.
The incident was captured on film when police were clearing a road tunnel where protesters gathered. The video, captured from a distance, shows officers kicking Ken Tsang-chui, a social worker and member of the pro-democracy Civic Party. The activist was among 45 protesters who were arrested and subjected to pepper spray.
The video revealing police brutality is not the first time police showed force during the mass protests, which began at the end of September. Two weeks ago, five police officers and 10 protestors were injured after the police used tear gas to disperse the crowd, the Wall Street Journal reported.
In response to the growing outrage, an investigation into the latest incident will be conducted in a "just and impartial manner," Hong Kong's secretary of security, Lai Tung-kwok, said during a news conference. The police officers in the video have reportedly been identified and reassigned.
What does this mean for the movement? The pro-democracy protests, dubbed the "Umbrella Movement" and known on social media as #OccupyCentral, began Sept. 28, when students flooded a main artery and financial district of the island city. 
Recently, there have been fewer protesters voicing their demands for free and unfettered elections. But videos of police brutality have caused outrage that could bring new energy to the protests and demands for an investigation.
Though China has blocked access to the video in the mainland, there is renewed and growing international sympathy for the protesters and journalists who refused censorship from the Chinese government.
Hours after the video was released, more people have again taken to the streets.
"Is this still a Hong Kong with rule of law?" Coco Cheng, a student at the Chinese University of Hong Kong, in response to the police beating video, told the Wall Street Journal. "If there is no rule of law, what else is there to sustain our future economic and societal development?"