Dating 'Expert' Steve Harvey Wants Women to Pay Him to Make Them More Dateable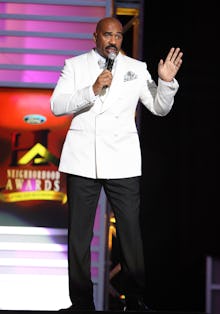 As if inviting Paula Deen to mentor fatherless young black men wasn't enough, talk-show personality and self-styled self-help guru Steve Harvey found yet another way to draw ire from women everywhere: He wants to help make them more appealing to men.
The former comedian's syndicated talk show has become a ratings hit, but often for the wrong reasons; Harvey routinely doles out benevolently sexist dating advice to women, often to their chagrin. And his first book, Act Like a Lady, Think Like a Man, was apparently only the tip of the iceberg, as he is now partnering up with the creators of Match.com to create a new dating website, Delightful. 
The site will feature advice columns to "help women become more dateable" for men, according to Forbes. Men won't be left out, of course. The site will also feature tips for how they can become more chivalrous, because Harvey thinks they don't know "the proper way to treat a lady."
Looks like every misogynistic and outdated trope about heterosexual romance is par for the course as far as Harvey is concerned.
Notably, Harvey believes that women are "wired differently," a pseudoscientific insight that apparently prompts them to date differently because of their biological clock. Women only want to date "with the hope that it leads to a relationship," he said.
Right. As if women don't hook up with or meet new people on sites like OKCupid or apps like Tinder. For too long, men and women have been conditioned to believe that women date with marriage exclusively on their minds. As Julie Ross told Mic earlier this year: 
"Not only do women want sex, but as journalist Daniel Bergner points out in What Do Women Want? Adventures in the Science of Female Desire, their desire is 'not, for the most part, sparked or sustained by emotional intimacy and safety.' This means that, contrary to popular belief, women can most definitely have sex without getting emotionally attached. Studies of sexual desire have actually shown that plenty of ladies want casual sex more than the average guy, and many guys want it less than the average lady."
This information has escapes Harvey, who instead wants women to pay $29.99 a month to be told what's best for their love lives from a paternalistic "man knows best" perspective.
As proof of Harvey's often-irritating approach, here's one example from his talk show. He invited a female audience member on stage for some trademark advice. She wanted to know if she should retain her "sexy librarian" look with glasses or get contacts instead. Harvey recommended she simply ask the experts (read: men) and promptly invited a group of guys in the audience to vote.
"It's important to listen to a guy," Harvey advised. "If a guy sees you and says 'hey, wow, you look nice' but if he goes 'woah!' then that's extra."
It shouldn't be up to men to dictate how a woman feels about her looks, her clothing choices, her dating prospects or what shewants out of her love life — let alone if she wants one. The premise of Delightful seems to be that women are at best unable to make good decisions independent of a man's desires and at worst are emotionally unstable. 
Instead, what men like Harvey need to do is affirm women and then get out of their way. How women choose to date and who they ultimately pick is their decision alone. 
h/t The Grio