Democrats Are More Unpopular Now Than at Any Point in the Last 30 Years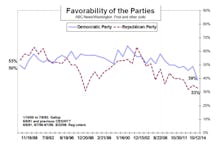 Langer Research Associates for ABC News/Washington Post
The Democratic Party is a pretty sure bet to lose control of the Senate on Election Day. They've been the minority in the House of Representatives for nearly two years. The White House — that, they do control — isn't doing them any favors, with President Barack Obama's approval numbers hitting historic lows.
But it can, and does, get worse. According to a new ABC News/Washington Post poll, Democrats are now less popular than they've been in 30 years, with just 39% of Americans saying they have a favorable view of the party.
"Even with the recovery to date, 77% [of respondents] are worried about the economy's future, and 57% say the country has been experiencing a long-term decline in living standards," poll guru Gary Langer said.
With Democrats in control of the House, the Senate and the White House for varying periods of time over the past seven years, the blame for these declines in standard of living is going to fall on their shoulders.
Despite the low, and still plunging, numbers, Democrats remain more popular than Republicans, who clock in at 33% favorability. This has been the case for the better part of a decade. The Democrats' problem, for now at least, lies in a serious gap in voter enthusiasm, which is enough to give "GOP candidates ... a 50-43% lead among likely voters for U.S. House seats in the Nov. 4 election."
That's nothing new. Historically, Democrats suffer from low turnout in midterm elections, with the lone recent exception being 2006. Back then they centered their national pitch on rejecting an unpopular two-term president — much like Republicans are doing now. George W. Bush, like Obama today, was coming into the back nine of his presidency tremendously unpopular.
The question moving forward from this poll and Election Day is how Democrats process the loss and go about reversing the tide. It won't be easy.