Warner Brothers Just Announced Six Years' Worth of DC Superhero Films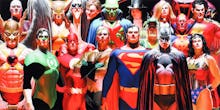 The news: Warner Brothers CEO Kevin Tsujihara announced today that the studio has eight big superhero movies coming down the pipeline: Suicide Squad in 2016, Wonder Woman and Justice League in 2017, The Flash and Aquaman in 2018, Shazam and Justice League 2 in 2019 and Cyborg and Green Lantern in 2020. 
The announcement came during a Time Warner conference for investors. According to a press release provided by Courtney Simmons, DC's senior vice president for publicity, Wonder Woman will star Gal Gadot (Fast and Furious 6) and Justice League Part One will see Ben Affleck, Henry Cavill and Amy Adams reprising their roles as Batman, Superman and Lois Lane. The Flash will star Ezra Miller (The Perks of Being a Wallflower), Aquaman will feature Jason Momoa (Game of Thrones) and Cyborg will star stage actor Ray Fisher.
These eight movies come in addition to the upcoming Batman v Superman, which will introduce Ben Affleck in the role of Batman. 
In announcing the Justice League movie, Tsujihara also finally confirmed what people have been asking about for a while. "We're bringing back the cast of Batman v Superman with a cast of other well-known and highly anticipated superheroes," he said of Justice League. Of Wonder Woman, he noted that "Wonder Woman is an iconic female superhero fans have been anticipating for many years."
The move also challenges DC's rival Marvel and its dominance of the superhero universe. As Bloomberg Businessweek noted, "[Marvel's movies] all perform well, and some have done phenomenally. The Avengers sold $1.5 billion in tickets globally in 2012, making it the third-highest-grossing movie of all time. All told, Marvel has made consistent hits, which is supposedly impossible in a creative business."
Marvel has thus far cornered the market on movies, whereas DC's efforts — The Green Lantern and the Superman reboot among them — have generally failed to perform. With this latest announcement, DC and Warner Bros. are now taking the gloves off.