Excited About HBO's New Streaming Service? Thank Millennials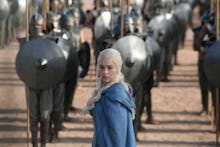 The news: In a move that's shaking the entire television industry, HBO announced it will begin offering online-only packages that will allow users to access its entire library of content without a cable subscription — and you can thank Millennials for it.
"It is time to remove all barriers to those who want HBO," HBO chief executive Richard Plepler said Wednesday. "So, in 2015, we will launch a stand-alone, over-the-top HBO service in the United States."
"All in, there are over 80 million homes that don't have HBO and we will use all means at our disposal to go after them," he added.
The reason: A new generation of young TV-watchers is causing "drastic" changes in the way audiences access their favorite shows, Rapid TV News reported. Millennials, in the survey as 18- to 34-year-olds, are increasingly using the Internet instead of a remote, and HBO is clearly aiming to corner this market while it's still developing.
These three charts from comScore's just-released U.S. Total Video Report basically sum it up. Young people are now accessing about 31% of their TV on a tablet, smartphone or computer, way up from 15% in the 35-54 group and just 9% in the 55+ demographic.
Nearly half of 18- to 34-year-olds have watched TV on a laptop/desktop computer or tablet in the past month, up from just shy of 30% of 35- to 54-year-olds and less than 20% of those over the age of 55. Young people are also turning to smartphones in great numbers.
And when they do watch programs on an actual TV, young folks often use Internet-capable TV boxes or game consoles, meaning that the above numbers might even be underestimating how far Millennials have strayed from traditional TV-watching habits.
Millennials were also approximately 77% more likely to be "cord-cutters," that is, those who do not subscribe to any pay-TV channels, and 13% do their TV watching exclusively online. If these trends continue, the coming decades may see even more young viewers abandoning pay-TV entirely, a fate that terrifies cable networks. 
The Wall Street Journal reports that even those who do sign up for cable-TV subscriptions are paying for smaller bundles, opting not to pay extra for "popular channels like TNT, USA, ESPN, CNN, Fox News, Disney Channel and Discovery Channel." Basic plans are up 20% or more, increasing from 8-10% a "few years ago" to 12% now.
HBO has seen massive success with its HBO Go streaming service, which requires a cable subscription and has grown 30% in the past year alone. That has led to a few technical issues with streaming capabilities, like when HBO Go servers crashed in April during the Game of Thrones season premiere. 
But many people are simply borrowing the accounts to avoid paying the price of a cable subscription, and the network is being rapidly outcompeted by online-only services like Netflix. Funny or Die brilliantly captured this problem in the video below:
What it means for you: Instead of continuing to tolerate this situation, HBO betting Millennials will be willing to trade a lower subscription cost for easy access to its programming, and it's one that could pay off big time. If HBO sees success with this new service, other networks may offer direct access over the Internet as well. Young people are driving this brewing revolution in the TV industry.
With fewer restrictions on the content they make and networks like AMC deciding to focus on providing better programming than filler, this could mean we'll all get better TV at a fair price. It might also mean some smaller channels won't be able to compete. But with all the great stuff you can access online, is that so terrible?