A Major Music Festival Is Cracking Down on an Awful Modern Trend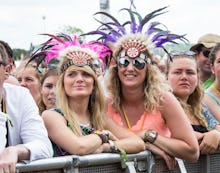 The news: Starting next year, Native American headdresses — a prized fashion accessory for music festival aficionados all over the world — will no longer be sold at the U.K.'s Glastonbury Festival.
What began as an online petition became official festival policy on Wednesday as organizers added headdresses to a list of items prohibited for sale. The petition's creator, Daniel Round, originally wrote that wearing them "is an offensive and disrespectful form of cultural appropriation; [it] homogenizes diverse indigenous peoples and [it] perpetuates damaging, archaic and racist stereotypes."
On Tuesday, Round posted an update to the page confirming the ban. "Our petition, small in numbers but passionate in support, pushed this issue right up to Emily Eavis, and she listened. From next year, alongside candle flares and flags, Native American-style headdresses will not be on sale at Glasto stalls," he wrote.
In July, Canada's Bass Coast Festival banned the practice, arguing, "We understand why people are attracted to war bonnets. They have a magnificent aesthetic. But their spiritual, cultural and aesthetic significance cannot be separated."
A step in the right direction: Headdresses, which hold huge ceremonial and traditional value to many indigenous peoples, are a common sight at music festivals across the globe. But they have a history of being snapped up by non-Natives in what has become a particularly egregious form of cultural appropriation. 
"We, as First Nation people, have never had control of our image in colonial media since its birth," said Ian Campeau of the Ottawa-based aboriginal EDM collective A Tribe Called Red. Things like headdresses lead to "a false idea of what it means to be Indigenous today ... robbing the First Nations of their nationhoods and nationality ... [and] making us all 'Indian' instead of recognizing me as an Anishinabe or Ojibway."
Although attendees will seemingly be allowed to bring their own headdresses to the festival, banning them from being sold for profit is a big step forward.
Others could take note: In June, the Washington Redskins lost their trademark on the name "Redskins" after the U.S. Patent and Trademark Office called its use disparaging. Though the team still hasn't changed its name, they're attempting to mitigate the controversy, with not-so-successful results. 
Though Glastonbury is perhaps the biggest festival yet to ban the practice, other music festivals still lag behind. Coachella, which has received particularly harsh criticism for putting headdresses on display, still allows them. 
As Round notes, however, he's hopeful that the petition will lead to others like it. 
"Although it is only one U.K. festival, I hope that if we spread the news of Glastonbury's decision online, positive discussions about the stereotyping of Native Americans and the headdress will grow in the U.K. and elsewhere."
We all hope so.
h/t The Independent