Ebola Could Become 'The Worlds' Next AIDS" Sooner Than We Think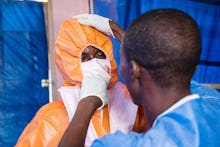 The news: Sixty days.
That's the amount of time the World Health Organization (WHO) estimates the global public health community has left to turn the Ebola crisis around — before things spiral out of control.
"The WHO advises within 60 days we must ensure 70% of infected people are in a care facility and 70% of burials are done without causing further infection," Anthony Banbury, head of the U.N. Mission for Ebola Emergency Response, said at a Security Council briefing Tuesday. "We need to do that within 60 days from 1 October. If we reach these targets then we can turn this epidemic around... We either stop Ebola now or we face an entirely unprecedented situation for which we do not have a plan."
Health authorities are already drawing concerning parallels. If that's not worrying enough, public health officials are comparing the Ebola outbreak to another epidemic: the AIDS crisis.
Last week, Centers for Disease Control and Prevention director Thomas Frieden said that the international community is in the fight against Ebola for the long haul, just as it took years to rein in the AIDS epidemic.
"This is a fluid and heterogeneous epidemic. It's changing quickly, and it's going to be a long fight," Frieden said at a World Bank forum. "I will say that in the 30 years I've been working in public health, the only thing like this has been AIDS. We have to work now so this is not the world's next AIDS."
Since the epidemic began, nearly 30 million people have died from HIV/AIDS. The international community doesn't want to go anywhere near that figure again.
Things are looking bad, but there is still an opportunity to turn this around. According to WHO, the Ebola mortality rate has jumped from 50% to 70% in the past few weeks, and we're now seeing an average of 1,000 new cases per week. If we don't meet the 60-day deadline, that number can jump to as high as 10,000 per week, making the epidemic harder to control.
There have already been 8,914 Ebola cases around the world, resulting in 4,447 deaths. But all is not lost.
"Every time you isolate another patient, every time you have a safe burial, you're taking some of the heat out of this outbreak," said WHO assistant director-general Dr. Bruce Aylward. "But this is Ebola. This is a horrible, unforgiving disease. You've got to get to zero."
If you'd like to donate to Ebola relief, the U.S. Agency for International Development has put together a list of NGOs working on the front lines in West Africa. You can check out the list here.