Benedict Cumberbatch Just Gave Us the Best Reason to Love Him Yet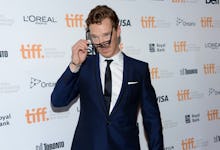 Between his acting abilities, his voice and his love of dogs, Benedict Cumberbatch has given us more than a few reasons to appreciate him. In the latest issue of Out magazine, he gave us one more, and it's quite possibly his best yet. 
While discussing increasing intolerance around the world, particularly as it relates to LGBT rights, the Sherlock star noted: "I'd take up arms against someone who was telling me I had to believe in what they believed or they would kill me. I would fight them. I would fight them to the death. And, I believe, the older you get, you have to have an idea of what's right or wrong."
Although Cumberbatch himself is straight, he's not unfamiliar with the damaging effects of intolerance, having just portrayed World War II code breaker Alan Turing in The Imitation Game. Turing was a gay man living during a time when homosexual acts were illegal in the United Kingdom; as the Hollywood Reporter noted, many believe his arrest for "indecency" in 1954 and resulting chemical castration paved the way for his suicide. 
Gordon Browne, the former British Prime Minister, officially apologized for the arrest in 2009, but Cumberbatch told the magazine that such a move is much too little, too late. "It's an insult," he told Out, "for anybody of authority or standing to sign off on him with their approval and say, 'Oh, he's forgiven.' The only person who should be [doing the] forgiving is Turing, and he can't because we killed him."
"[I]t makes me really angry. It makes me very angry," he said.
Of course, he's not the first LGBT ally in Hollywood. Many other actors and actresses, straight and gay alike, have used their fame to propel LGBT equality. Following the Supreme Court's overturning of Proposition 8, California's gay marriage ban, many, many celebrities were quick to rejoice on social media. Beyoncé  posted a handwritten note to Instagram supporting marriage equality. Others gave money to fight the ban, such as Brad Pitt, who donated $100,000. "[N]o one has the right to deny another their life, even though they disagree with it, because everyone has the right to live the life they so desire if it doesn't harm another and because discrimination has no place in America," he said at the time.
Given the long string of marriage-equality-related victories over the past year, celebrities like Cumberbatch and Pitt are in some ways simply echoing the general sentiment of the population, the majority of whom now support marriage equality. 
Still, it's important for such high-profile figures to speak out. Their words can reach an enormous number of people, and it's always valuable to have influential people on your side.