Cosmo's Editor-In-Chief Tackles Sexist Double Standard With One Simple Metaphor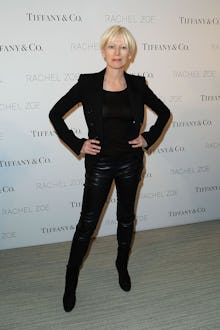 In one sentence, Cosmopolitan editor Joanna Coles just proved that there's no reason women can't "have it all" — at least when it comes to what they're being offered on newsstands.
"I think that women's lives are multilayered," she told NPR. "I have no problem understanding that women are interested in mascara and the Middle East. Men are allowed to talk about sports relentlessly and yet we still take them seriously. I don't understand why women can't talk about fashion, or sex, or love or wanting more money and not be taken as seriously as men."
Precisely. Women can embody what society would consider to be myriad contradictions: We can be intelligent and wear short skirts, we can love makeup and be just as passionate about international politics.
Furthermore, her deft comparison to men underscores the subtle yet pervasive sexism that reduces women into simple stereotypes: the virgin or the whore; the vamp, the tramp, the angel. Coles evokes what In her book Bad Feminist, Roxane Gay uses "bad feminism" to describe the multifaceted, complex nature of women who, like men, are all living and working and dealing with family responsibilities relationships.
Coles' bold statement also highlights the new, more progressive direction Cosmopolitan has taken this year, from its decision to endorse "pro-women candidates of any political party" in the year's midterm elections to having trans actress and activist Laverne Cox host the GoBOLD video challenge, featured on its website.
Speaking to Politico about Cosmo's decision to endorse candidates in this coming midterm election, Coles acknowledged that readers seem to be taking note of the magazine's change in direction, but reiterated her ethical commitment to publishing a magazine that represents the many facets of women's lives, from fashion to politics.
"People keep saying, 'Oh, you've made the magazine much more political,' but I feel that these are about lifestyle issues for women," she said. "The biggest single decision which will impact your life is when you have a child. I want women to have control over that, not a bunch of old white guys sitting in D.C. That to me is why I am doing this."