CDC Director Reveals the Key to Fighting Ebola in the US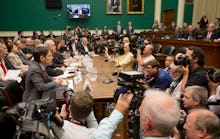 Sixty-five percent of Americans say they are concerned about the Ebola epidemic, with most of the country's focus trained on the actions of U.S. leaders managing the domestic response. 
But today, the director of the Centers for Disease Control and Prevention said he believes those worries are largely misplaced, and that the best way to combat the threat of Ebola in the U.S. is to stop its spread at the origin of the outbreak: West Africa.
"To protect the United States, we have to stop it at its source," Dr. Thomas Frieden told a congressional panel Thursday. "There is a lot of fear about Ebola and ... I fear it will spread more in Africa. Our top priority, our focus, is to work 24/7 to protect Americans. We protect Americans from threats, and in the case of Ebola, we do that through a system of multiple levels [in the U.S. and Africa.]"
Dr. Robin Robinson, a top official from the Department of Health and Human Resources, also said he believed "the best way to protect our country is to address the current epidemic in Africa."
Two Americans, both nurses who attended to Liberian Ebola victim Thomas Eric Duncan, have fallen ill in the past week. They are the only people to contract the virus on U.S. soil. As of Oct. 12, there have been a reported 8,997 "confirmed, probable and suspected cases" across seven African nations. The World Health Organization puts the death toll at nearly 4,500. 
The expert panel on Capitol Hill answered questions from the GOP-led House Committee on Energy and Commerce's Subcommittee on Oversight and Investigations. Chairman Rep. Fred Upton, a Michigan Republican, is among those pushing for a ban on travel from West Africa into the U.S.
Frieden, as noted in the Guardian's liveblog, explained why this was a terrible idea:
"Right now we know who's coming in. If we try to eliminate [air travel], we won't be able to check them for fever when they leave, when they arrive, we won't be able to check for a detailed history. We wouldn't be able to impose quarantine ... we wouldn't be able to identify and trace contacts – email history, phone history [etc]. ... We wouldn't be able to impose controlled motion."
There is plenty of very fair criticism to be directed at the CDC and medical officials, especially in the Dallas hospital where nurses Nina Pham, 26, and Amber Vinson, 29, were infected with the virus. Officials telling Vinson she was clear to fly despite a minor fever represents the worst reported breakdown. 
But the reality, despite our reasonable concern, is that our focus should be on Africa. Its future cannot be separated from our own. They are tied together, whether we like it or not.