If the Media Butchered Other Names Like It Does Hispanics', Here's How Bad It Would Look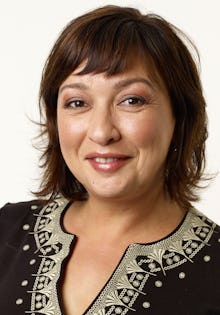 The news: When acclaimed actor Elizabeth Peña died Tuesday, Hollywood lost a prolific and respected talent. So it was upsetting when headlines like this started popping up across the Internet:
Notice anything? As Latino Rebels pointed out, there's a reason why Peña's name — emphasis on the "ñ" — is spelled the way it is. Aside from synthesizing generations of family history, that single letter spells the difference between "peña" (meaning "crag," "cliff" or "crowd") and "pena" ("pain") — two completely different words.
Background: In a tweet from January, the Associated Press said they don't use accent marks in their copy "because many computers do not recognize them."
But as time progresses, that sounds more like a convenient excuse, especially when Spanish-language publications like El País manage to display them across multiple platforms while also respecting multilingual grammar conventions.
News sites need to #RespectTheÑ, because the cultural bias current practices exhibit would be unacceptable if applied to Anglophone names. The uproar would be deafening if, say, headlines about Robin Williams' death read, "Robin Willyums, Comedic Genius, Dead at 63."
To that end, here are seven examples of celebrity names that would have garnered significant backlash if news publications butchered them the same way they do Spanish names. They are misspelled intentionally to illustrate the degree to which outlets have disrespected Peña:
1. Philip Seymour Hoffmin, Star of 'Capote' and 'Doubt,' Dead at 46
2. Shirley Templ, Legendary Former Child Star, Is Dead at 85
3. Comedian and Fashion Commentator Joan Rivurs Has Died
4. Maya Angeloo, the Greatest Poet of Her Generation, Has Died at Age 86
5. Hollywood Icon Lauren Backall Has Died
6. Mickey Roonie, Hollywood Legend, Dead at 93
7. Harold Ramiss, Director of 'Groundhog Day' and Star of 'Ghostbusters,' Dead at 69
This would never happen: The misspelling of Peña's name is not only disrespectful to her family and legacy, it ignores the importance of Latinos making up an increasing share of the media-consuming public in the U.S.
According to Advertising Age's annual Hispanic Fact Pack for 2014, Hispanic media spending grew 8% in 2013. Procter & Gamble Co., America's largest spender in Hispanic media, upped its own spending a staggering 36% that year. Total U.S. ad investment for this demographic was $8 billion, according to the report. That growth is spurred by some remarkable population trends, as the number of Hispanics in the U.S. has exploded from 14.6 million to over 52 million since 1980, according to CityLab.
One would assume these factors are enough to change our expectations of translingual media conventions. Unfortunately, many outlets have failed to evolve with the times, and Spanish-language names are suffering as a result.
h/t Latino Rebels