Malala Yousafzai Inspired the World. Now Meet the Teen Girl Who Inspires Her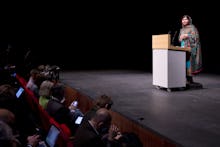 As the youngest winner of the Nobel Peace Prize, it's difficult to think of who could inspire Malala Yousafzai, the Pakistani education advocate who has become a global icon for girls' education. But there's one teen girl who inspires her.
At 18 years old, Anoyara Khatun from India's West Bengal has helped reunite more than 180 trafficked children with their families, prevented 35 child marriages, rescued 85 children from the clutches of child labor and registered 200 students into schools, according to the Malala Fund.
Khatun became a member of Save the Children's Multi-Activity Center (MAC) in her village of Sandeshkali before undertaking massive advocacy and awareness campaigns to educate people about the ills of child marriages and child labor. 
The Malala Fund, which helps girls pursue their education in repressive states, also recognizes young activists around the world, putting their efforts and accomplishments on a bigger platform both on social media and for the eyes of international donors. Yousafzai celebrated Khatun's "exemplary courage and leadership," a few days after she was awarded the Nobel Prize on Oct. 13, which commemorates the International Day of the Girl.
Like Yousafzai, Khatun became an activist because of her own experience with child exploitation. After losing her father at age 5, tough circumstances in the family compelled her to work as a domestic help in a household in the North 24 Parganas district of West Bengal.
"Much to her disliking, Anoyara worked in a household for about six months and then reached back to her village. Once there, she saw that the situation was terrible for children," Save the Children says. "Child marriages were rampant and a large number of children were being pushed into child labour and many were being trafficked to cities. Anoyara felt perturbed and wanted to do something about it but there were no means at her disposal."
The two girls have yet to meet, but Khan met Yousafzai's father in Brussels in June 2012 when the Bengali activist traveled to Belgium to receive her nomination for the International Children's Peace Prize.
"Trafficking of young girls and child marriages were rampant in the villages here," Khatun told the Hindu, one of India's major newspapers. "Poverty and lack of awareness and education provided the ideal conditions for traffickers to operate here."
"Now, if someone approaches the villagers with the proposal to take a girl to Delhi or anywhere else for work, that person is sure to be handed over to the police by us."
Khatun's work with Save the Children is much needed in her home country. More than 200 million people live below the poverty line in India, according to the World Bank, making millions of impoverished children highly susceptible to labor and sex trafficking from their rural villages to cities including Mumbai, New Delhi and Calcutta. In India alone, the industry generates a hefty sum of $343 billion, according to a recent study led by Yousafzai's fellow Nobel Peace Prize winner, Kailash Satyarthi.
"The figures are shocking," Satyarthi says in the report "Economics Behind Forced Labour Trafficking."
"Younger girls are sold at a higher price in the market primarily because they can work for longer as compared to the older women."
The Indian government plans to combat the illegal trade with better data collection and monitoring of traffickers. Though there is no one solution for preventing the trade, young activists like Khatun have already saved lives and in collaboration with Yousafzai, is taking her efforts to scale.