Stanford Is Recruiting Football Players With the Smartest Pitch Imaginable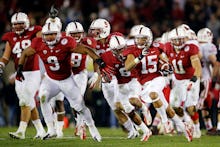 In the high-stakes, cutthroat world of college football recruiting, top-flight programs must exploit any edge available to seize the upper hand.
Leave it to Stanford to make the smartest pitch imaginable.
According to ESPN recruiting analyst Tom VanHaaren, the Cardinal is sending letters to potential recruits that show how much more Stanford graduates earn in salary relative to the other schools in the Associated Press Top 25. VanHaaren obtained a copy of the mailer and posted it on Twitter last week.
The text of the letter notes that Stanford alumni earn more than $42,000 per year above graduates from other nationally ranked schools:
While the complete college experience sets Stanford apart, there is no question that a Stanford degree will later provide you earning power which can forever change your life. The average Stanford graduate pulls down more than $42,000 per year above the grads of the rest of the Top 25 college football programs in the country. Compounded over a career, this represents an advantage of millions of dollars. That's just the salary advantage for the average Stanford grad, and there has been nothing average to this point in your life. Stanford Varsity Athlete alumni are the most sought-after employees across all sectors of the economy in every corner of the country.
Given the astronomical odds facing aspiring professional football players, the strategy makes resoundingly good sense. Only 310 of the 9,000 players to reach the college level are invited to the NFL scouting combine, according to the NFL Players Association, which means that even the most ambitious college prospect should be prepared for a life outside of the NFL.
Stanford is one of several schools, along with Notre Dame, Duke and Vanderbilt, known for maintaining first-rate athletics programs despite rigorous academic standards. But none have been able to match the Cardinal's success in both areas.
Since 2010, Stanford's football team has gone 50-11 with string of four consecutive BCS bowl appearances, including the school's first Rose Bowl win in 40 years. No other school in recent memory has appeared in both the top five of the AP poll and the top five of the U.S. News and World Report rankings of national universities.
Stanford coach David Shaw expounded on the school's unique recruiting standards to CBSSports.com's Bruce Feldman in 2012:
Stanford's recruiting process is opposite from virtually every other program in major college football and has been for the past few years. The staff doesn't watch film of prospects until after it receivers -- and evaluates -- a recruit's academic transcript. Many schools these days offer scholarships to kids whose transcripts they've never seen.
While other football powerhouses focus heavily on how a school can help a recruit make it to the NFL, Stanford's refreshingly pragmatic approach stands out.