14 Powerful #SpiritDay Tweets Everyone Needs to See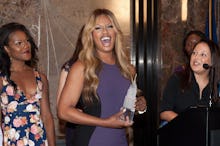 LGBT advocates asked the world to take a stand against bullying Thursday, and the world answered. 
Originally created in 2010 by Canadian teen Brittany McMillan, Spirit Day has become an annual day of celebration, reverence, and remembrance for LGBT youth who have been victims of homophobic bullying around the world. First celebrated Oct. 20 but now on Oct. 16, the day is commemorated by wearing the color purple, a color taken from the purple bar of the rainbow flag, which, as explained by GLAAD, represents "spirit."
The global support of the LGBT community has been exhilarating. Celebrities from the cast of Orange Is The New Black to Pretty Little Liars made YouTube videos to express their spirit. Transgender actress and activist Laverne Cox even gloriously lit up the Empire State Building. 
But it is also an opportunity for LGBT youth themselves to share their own stories, and in some ways it is these moments that prove the most inspirational. Here are 14 tweets that encapsulate what Spirit Day is all about: