These Schools Are Finally Holding College Coaches Accountable for Athletes' Grades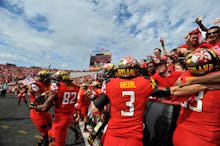 Grades are just as important as games for college athletes, at least on paper. Now a new policy will hold some Division I coaches and athletic directors responsible if their teams perform poorly in their academics. The rule hits them where it hurts: their wallets.
The Board of Regents Committee for the University System of Maryland announced Tuesday it will prevent coaches from receiving "performance bonuses if their players fail to meet academic benchmarks," according to the Baltimore Sun. Affected schools include the University of Maryland, College Park, Towson University, Coppin State University and UMBC.
The academic standards will be in line with the Academic Progress Rate system set up by the NCAA.
What sets this policy apart is that it demands accountability from Division I sports programs. Head coaches and athletic directors get paid the big bucks not only to win games, but to also make sure the student-athletes are doing their part academically. That hasn't always been the case.
After the University of Connecticut was ruled ineligible from the 2013 NCAA tournament for their low APR score, veteran coach Jim Calhoun was neither pushed out nor punished financially for his negligence. Instead, he was able to retire on his own terms.
Because he waited until September 2012 to retire, rather than immediately after the NCAA's sanction that June, Calhoun didn't have to forfeit "some or all of a $1.3 million payment due to him on Sept. 7 for speaking fees and media appearances," according to Yahoo Sports. UConn also gave Calhoun the option "to accept a $1 million payment or remain in a fundraising role at a salary of $300,000 per year for [the next] five years." 
UConn's men's basketball page says that Calhoun is currently working as a special assistant to the director of athletics.
Whether it's Calhoun not fulfilling APR requirements or University of North Carolina coach Roy Williams allegedly unaware of joke paper classes, coaches need to be held responsible as leaders of student-athletes. Although there's no sign that this type of policy might spread to other Division I programs any time soon, the University System of Maryland has taken a step in the right direction.