Texas Hospital Releases Inspiring Video of Nurse Infected With Ebola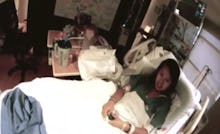 Dallas nurse and Ebola patient Nina Pham departed Texas Health Presbyterian Hospital for the National Institute of Health's Clinical Center in Maryland on Thursday. Before she left, Pham, 26, was visited by her treating physician, Dr. Gary Weinstein, who recorded his conversation with her. 
Weinstein praised Pham and her fellow nurses for their heroic efforts working to treat Thomas Eric Duncan, the Liberian man who was initially admitted to the hospital with Ebola. Pham was in incredibly high spirits and looked healthy, despite the severity of her illness. Her condition was upgraded to "good" on Tuesday. 
Pham, 26, was diagnosed with the virus on Sunday. NBC reports that "the other nurse who contracted Ebola in Dallas, Amber Vinson, was flown in Wednesday to Emory University Hospital in Atlanta. The Emory and NIH units are two of the four facilities in the United States that are specially equipped to handle Ebola."
Editors Note: Mar. 2, 2015 
An earlier version of this article cited NBC's reporting, but did not include quotations around the cited passage. The story has been updated to fully attribute the NBC's' language.