Groundbreaking Research Reveals the Alarming Consequences of Fracking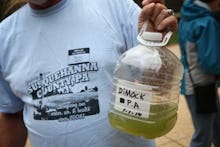 The news: If you're a big fan of hydraulic fracturing — the mining technique referred to as "fracking" — this slew of new studies on the practice might convince you otherwise.
Earlier this week, the journal Seismological Research Letters published a study linking fracking to hundreds of minor earthquakes in eastern Ohio last year. The report identified nearly 400 tremors on a previously unmapped fault in Harrison County between Oct. 1 and Dec. 13, 2013. According to the Associated Press, some 190 quakes were detected in a single three-day period last October, beginning within hours of the start of fracking
Another study, led by scientists from Duke University and Stanford University and published in the Annual Review of Environment and Resources, found that primary threats from fracking include "surface spills, wastewater disposal and drinking-water contamination" as well as "an increase in volatile organic compounds and air toxics locally." 
And a third study, published in Nature, discovered through computer models that an increased use of natural gas would have "limited impact" on fighting climate change. Researchers found that CO2 emissions would jump to 12% by 2050, increasing climate forcing, and adding to human-generated climate change.
"In the absence of policies that help natural gas play a positive role, you won't make things much better," Jae Edmonds, one of the lead authors for the Nature study, told Mother Jones. "It's kind of a wash."
What does this mean? President Obama argued in his 2014 State of the Union address that natural gas is a "bridge fuel" to ubiquitous renewable energy, an essential part of maintaing economic growth "with less of the carbon pollution that causes climate change."
But the takeaway from these studies is that we still don't fully understand the extent of the environmental and health risks posed by fracking, even as it gains popularity and spreads throughout the U.S. Hydraulic fracturing was once heralded as a solution to climate change, but further study is required to fully understand the risks of the practice.
You can see a map of ongoing fracking activity in the U.S. here.